By Earl Matthews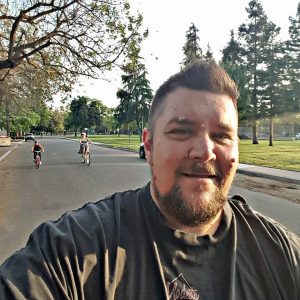 Happy Spring to you all. I normally do a calendar run down but there is so much going on this month that I am going to try something different and talk about why this month is such a great month for music in Modesto.
Let's start with Music in the Plaza. Every Friday starting May 3rd there are great bands playing for free in the 10th St Plaza in Downtown Modesto. Lots of folks come out and its a wonderful atmosphere. You could post up on one of the restaurant patios and have dinner and a drink or you could bring out a folding chair and be right in front of the band. So much fun.
The Oakdale Chocolate Festival. The name alone is enough to entice me but for music lovers, there is so much more. Great bands all day and a celebration of the greatest threat ever invented.
The next one is my favorite event of the entire year, Prochfest. If you haven't been, you owe it to yourself to make it a priority this year. May 19th, 12-5 pm. So many locations that you will have to take some time and look at the schedule to see where your favorite bands will be this year. I am going to be posted up all day on Magnolia, one block away from Graceada Park. My friend Randy is hosting a Blues Stage with Ava Grace, John Clifton, Shad Harris, Project 59 and Big Earl and the Cryin' Shame. I can't tell you how much fun I had last year. I hope you take your time and look into all the great stuff going on around town for this event. When its all over there is going to be a big Wrap Party at Ralston's Goat too. Mite just turns into a huge jam. Only one way to find out.
I hope you all have a great month and I hope to see you at a show.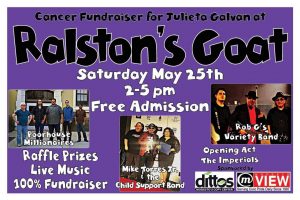 May
4th Queen Bean Music Fest
5th Texas Funk and JD Totally Tejano 4-8pm Blue Horse, Ceres
9th Dwight Yoakam at Turlock Community Theater
11th Big Earl and the Cryin Shame at the Torch Club, Sacrament o
12th Rob G Variety Band Open Jam at Blues Horse in Ceres 6-11pm
14th Bluesbox Bayou Band at Ashkenaz, Berkeley
16th Stevie Ray Vaughn Experience at Black Oak Casino
17th Gary Gervase and Kickstart Blues Music in the Plaza, 10th st Modesto 7-9 pm
18th Gary Gervase and Kickstart Blues Oakdale Chocolate Fest 4-5 pm
18th Poorhouse Duo at the Modesto Farmers Market
19th Rob G Variety Band Open Jam at Blues Horse in Ceres 6-11pm
19th Gary Gervase and Kickstart Blues Porchfest, 611 Enslen Modesto 3-4 pm
24th Roy Rogers and the Delta Rhythm Kings at Black Oak Casino
25th Rob G Variety Band Open Jam at Blues Horse in Ceres 6-11pm
25th Poorhouse Millionaires, Rob G's Variety Band and Mike Torres Jr' and the Child Support Band at Ralston's Goat
26th Poorhouse Millionaires at Moore's Riverboat, Isleton 2pm
26th Bluesbox Bayou Band at Eagles Hall, Modesto
Comments
comments
About the Author: BigEarl