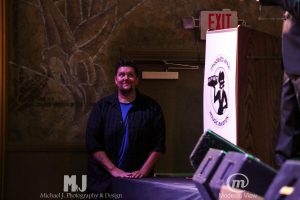 BluesView: Winter Blues
By Earl Matthews
Here we are friends, closing the books on 2018. It was a good year in many respects.
Kicking it off on the 1st Tony and the Tuff Times will be at Ridgeways in Modesto. December 3rd is a huge tribute to the late great Lazy Lester. You can check out some of the best blues players central CA has to offer including Kyle Roland and Rusty Zinn for a night you won't forget paying tribute to one of the best harmonica players that have ever lived.
On the 6th in Sacramento, you can check out Joe Louis Walker at the B Street Theater in Sac. Joe is a phenomenal guitar player and has a high cutting voice that he uses to great effect. If you love great guitar you can also check out Elvin Bishop in Santa Cruz at Moe's Alley on the 9th.
Stockton's own Jeramy Norris and the Dangerous Mood will be at The Brick House in Elk Grove on the 14th. Jeramy is a smoking hot guitar man and can work a crowd like no other. He is one to see if you haven't yet.
I will be hosting 2 jams this month one at Nino's on the 19th and another on the 26th at Fired Up Grill in Ceres. On the 20th I am hosting another Ceres Ramble, lineup TBA. You can go to our FEarlisha Presents FB page to see the full videos from our first one.
I am taking the Cryin' Shame back up to the Torch Club on the 22nd. The Torch is our home away from home and it is always a highlight of my year to play at such a fun spot.
A monster lineup a Moe's Alley in Santa Cruz on the 23rd. The show is called the Guitarsonists and it features Chris Cain, Daniel Castro and Mighty Mike Schermer. With any luck, I will be there.
I am going to recommend that you consider heading up to the Shaver Lake Lodge for New Years this year to see Jeramy Norris and the Dangerous Mood. I can say with full confidence that The Dangerous Mood is a guaranteed great way to ring in 2019. Have a great month and I hope to see you out at a show.
1st Tony and the Tuff Times at Ridgeways in Modesto
3rd Lazy Lester Memorial at Harlow's in Sac
Lee Oskar, Rick Estrin, Rusty Zinn, Mark Hummel, Red's Blues, Kyle Rowland, Rowdy Kate Reunion w/ Kari Carr, Henry Clements, Chris Burns, RW Grigsby, Larry Carr
6th Joe Louis Walker at the B Street Theater in Sac
9th Elvin Bishop at Moe's Alley on Santa Cruz
14th Jeramy Norris and the Dangerous Mood at The Brick House in Elk Grove
19th Big Earl's Blues Jam at Nino's in Modesto
20th Ceres Ramble at Fired Up Grill
22nd Big Earl and the Cryin' Shame at the Torch Club
23rd Guitarsonists with Chris Cain, Daniel Castro and Mighty Mike Schermer at Moe's Alley in Santa Cruz
26th Big Earl's Blues Jam at Fired Up Grill in Ceres
31st Jeramy Norris and the Dangerous Mood at Shaver Lake Lodge
About the Author: BigEarl