BrewView: A Divine Summer
By Christopher Mitchell and Brandilyn Brown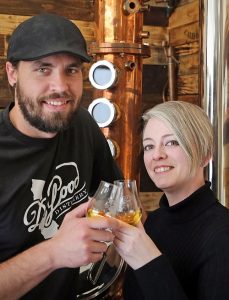 Ah, summer, the 5 months out of the year that we all live indoors, only leaving to take a swim or see a movie in an air conditioned building! Or, in our case, you also leave the house to find delicious and refreshing adult beverages. We've staked out, hunted, and sampled some refreshing cocktails this month. The winner of our search? The Divine Swine! And we want to humbly apologize that it took us so long to discover them for you!
We wish we had tried this great little "BBQ Pub" in Roseburg Square sooner. This is a gem of a watering hole-it's not a dive bar, but wouldn't call this swanky either, it's perfectly casual. There were families, couples of all ages, and several groups of friends just chillin' and enjoying everything this place has to offer. The patio was perfect in the evening, and afterwards we took a stroll down the Virginia Trail, which was a great way to burn off dessert! The recipes are mostly created by owner Robert Wilson, with some contributions from his wife and mother. So while we didn't go for the food, we enjoyed every bite of the pork rind nachos, the Chimichurrian tri-tip sandwich with garlic aioli, and chocolate cake truffles!
Washing all that down was a Divine South Side and a Peachy Keen. Why decide between savory and sweet if you can have both? The Divine South Side is made from Do Good Gin, lime juice, simple syrup and soda water. The Peachy Keen is crafted from Absolut Vanilla Vodka, peach liquor, orange and pineapple juice. Both were topped with maraschino cherries, a very traditional cocktail garnish. These cocktails impressed us: They tip their hat to the roots of cocktails while dazzling us with modern flare. The Peachy Keen especially so, we had to order a second one because we liked it so much. If summer could be liquefied, this would be it. A bright, sweet, flirty, sun-kissed beauty! Go have one tonight, and have yourself a slurp of summer!
They also have some great margaritas (the pomegranate was yummy!) and a great line-up of beers. If you're a beer person looking  to quench your thirst try the Firestone Walker Milk Stout on Nitro (ice cold!) We highly recommend it. Sip on, friends!
825 West Roseburg Avenue
Modesto, CA 95350
209-222-6496
Comments
comments
Bring on the rain, and a bottle of Wonky & Wry's Honey Braggot Ale. Loves to roast marshmallows over a fire. Enjoys the mix of cigars and whiskey.