BrewView: Brethren Brewing: Manteca Welcomes First Brewery Downtown
By Brandilyn & Christopher Mitchell

Brethren Brewing held soft openings every Sunday in January, so that they'd be experts at serving you when they hold their grand opening on February 4th. We were invited for a tour and a flight and had a great time chatting with owner Daniel Machado.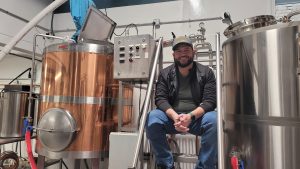 Daniel, a Manteca native, started brewing 12 years ago. A buddy brewed beer in his apartment and invited Daniel over to brew one day. They were using a kit from Barley & Wine (rest their soul, we miss them!). "We brewed some good beers and some bad beers, like you do, but we kept going." Pyramid's Apricot was his gateway beer to craft, but good ol' Heineken got him into simply enjoying beer.

The brew crew entered their beer into competitions and after that, made beer for church events and donated it to other non-profit events in the area to support the community. Each quarter they chose a different non-profit to support. "We wanted to give back to the community. We didn't always have the time or motivation to do certain things to give back, but our heart was there and we could always make beer. We wanted to give back on a bigger scale. We wanted to create a positive change in our community, even though we couldn't do it all ourselves. It is a way they can support the groups and people who have not just the heart, but the means and know-how.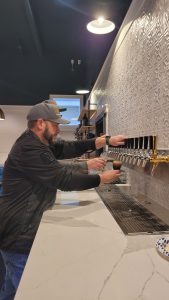 The dream slowly became a reality. It took 3 years to open the brewery in the 103 year old building, as it needed to be modernized quite a bit. Brethren Brewing was finally born! It's namesake comes from Daniel and his brewing crew all attending Brethren Church in Manteca. "We are making Manteca a better place one pint at a time."

The tap house and brewery are in the same building, and with the giant windows between the two, you can see the whole process. On any given day you can see Daniel or his head brewer Kevin Whitehouse hard at work making delicious beer for you. There is plenty of seating and large windows to see downtown, which has and will continue to be revitalized through Manteca City's efforts to bring business back downtown.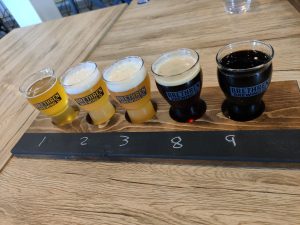 Our favorite beer on tap was the Lawnmower, and by chance it is also Daniel's favorite beer too. "It's my favorite beer ever, ever hands down. We also call it the 'Der Rasenmäher', which is 'lawn mower' in German." There's 16 taps that they will be filling in the next few weeks, so come on down this month and pick your favorite! Nightingale Coffee & Tea cart coming soon for those who need a caffeine fix or you want to treat your DD to something special. Sip on, friends!

Hours: Wednesday – Friday 2pm-9pm, Saturday 12pm-9pm, Sunday 12pm-7pm.
Follow them on Facebook for updates.
Brethren Brewing, 220 N Main Street, Manteca
Bring on the rain, and a bottle of Wonky & Wry's Honey Braggot Ale. Loves to roast marshmallows over a fire.