BrewView: Swing Into Squeeze In
By Brandilyn Brown and Christopher Mitchell
We've had some great bloody marys in our day, so when a friend shared with us about how much they enjoyed the "Hail Mary" at Squeeze In on Roselle & Floyd, we had to check it out for ourselves. It is named after the football term "Hail Mary pass"; a very long pass typically made in desperation, with great difficulty of achieving a completion. Well, this drink is that: I dare you to finish it, it's nearly impossible! Thankfully we both helped to tackle this brew.
The "Hail Mary" is in a class of its own. This one-litre behemoth comes with a celery stalk, olives, pepperoncini, several strips of bacon and half a grilled cheese sandwich making it technically an entire breakfast! At $14.99, that's a great deal for a breakfast, lolz. (If you're a hobbit it's a good first breakfast. There are over 40 omelettes to choose from for your second breakfast.)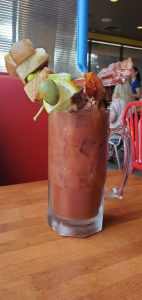 Lucky us, we were able to enjoy ours over a chat with Kathy Monday, owner operator, who is very "hands-on-deck". Bouncing from table to table, taking orders, delivering food, chatting and sharing smiles, she makes you feel like you matter. You are not just a table, you are humans sharing an experience in her restaurant for a sliver of time.
She went to college thinking she would be a lawyer her whole life, but instead fell in love with the very small franchise of Squeeze In when she visited the Truckee diner five years ago. "The live free, peace and love vibe just felt like home. I knew that's what I wanted to do. I'm still a partner at my firm but this is what I love. It's me." You can tell! Her heart is on her sleeve when she tells you about the cute little dwarf she just bought that now sits near the front entrance, and about "Grandpa Marvin", the creator of the aliens that are featured in every Squeeze In diner. Her son Jared joined the venture as general manager and one of his best friends as the head chef. Their investment really paid off! They are just as busy as they were pre-Covid and have expanded with more outside seating available. If you would like to join their team, they are looking for cooks, hosts and servers.
Kathy's favorite plate is one of the most popular picks on the menu: the Racy Tracy. It's a bacon, mushroom and Monterey jack cheese omelette topped with avocado that was featured on the Food Network's "Throwdown with Bobby Flay". We *almost* ordered it, instead, Chris settled on the "Manly Morris Meal" which is two eggs, spudz, toast, choice of protein and biscuits and gravy while I chose the "Spanish Flay", an omelette with diced pepper, cheese, spudz and parsley. All omelettes come with a choice of sauce: creamy mushroom, tomato pesto or cheddar cheese and I got the tomato pesto. Order extra gravy, it's fabulous on the spudz! Friends, it will not disappoint! We had so much food, we had to box half our plates.
Like any good brunch spot, Squeeze In offers mimosas as well, if the Hail Mary isn't a challenge you want to accept. It's not for the faint of heart, but delicious to the last drop. Do the "Better with a Buddy" deal to get 2 mimosas for $12.99.
Customers are encouraged to write on the walls and leave little messages with Sharpies after their meals-leave your inspirational message when you swing in. Sip on, friends!
Squeeze In
3020 Floyd Ave. Suite 101, Modesto
209-846-0719
www.squeezein.com
Email your resume to kathy@squeezeinmodesto.com for job inquiries
Bring on the rain, and a bottle of Wonky & Wry's Honey Braggot Ale. Loves to roast marshmallows over a fire.