Broadway's Phantom, Modesto Native Jeremy Stolle In Concert At Gallo Center January 23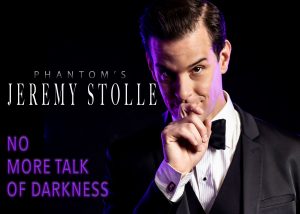 Jeremy Stolle, Modesto native and  12-year veteran of Broadway's The Phantom of the Opera, will be performing at the Gallo Center for the Arts at 2:00 pm on Sunday, January 23, 2022. 
Tickets, priced from $39 to $54, are available online at www.galloarts.org, by calling (209) 338-2100, or when visiting the center's ticket office at 1000 I Street in downtown Modesto.
Accompanied by his band, The Unreachable Stars, Stolle performs "No More Talk of Darkness," a storytelling-style concert about life, love, and the perseverance it takes to succeed on Broadway. The performance includes musical genres from classical to pop/rock.
Stolle has performed concerts worldwide. In addition to live performance, he has an online fan base as a recording artist, with nearly a quarter of a million hits on Spotify for his rendition of the song "This is Gospel." His solo album, "In the Moment," has sold in over 30 countries.
Opened in 2007, the Gallo Center for the Arts is a state–of–the–art performing arts complex with two venues, the 1,248–seat Mary Stuart Rogers Theater and the 440-seat Foster Family Theater. It is the focus of arts, entertainment, multicultural programming and social activities in the San Joaquin Valley, and home to four residents companies. Approximately 200,000 people attend events at the Gallo Center each season. For additional information, go to www.galloarts.org.
ModestoView features contributors from our community on a regular basis. We enjoy and welcome these honorary ViewCrew members. If you would like to message them, email to info@modestoview.com