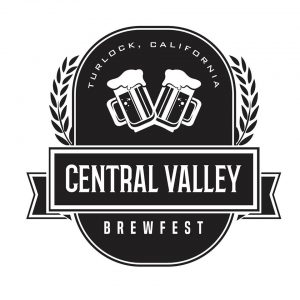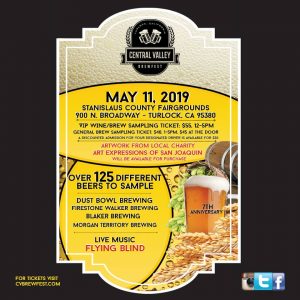 Golden Anniversary for Central Valley Brewfest
Turlock – May 11, 2019-  More than forty breweries will serve up craft beers at the Stanislaus County Fairgrounds for the seventh annual Central Valley Brewfest on May 11 at 12:00 p.m. The craft beer festival has become widely known as the pinnacle of spring fun for easy day drinking in the sunshine, live music, and lounging in the grass. Attendees can sip on a variety of styles while enjoying oversized beer pong, cornhole, connect four, and Jenga.
Craft beer lovers are encouraged to bring a friend or two because good beer is best consumed with good buddies. "Think of your fondest memory drinking craft beer, of course, the beer was good, but I bet there were also some good friends present," said Veronica Camp, founder of the Central Valley Brewfest. "The more of your crew you rally, the better CV Brewfest you'll have!"
The line up of participating breweries continues to grow every year. Guests will have the opportunity to sample brews from hometown favorites and new additions. Participating local breweries include Dust Bowl Brewing, Blaker Brewing, High Water Brewing and Morgan Territory Brewing. Joining the lineup from other California locations will be SLO Brewing, Knee Deep Brewing, Tactical Ops Brewing, and Kern River Brewing.
Making a stop on the "Host Beautifully" campaign will be the Stella Artois Airstream. A modern version of an American staple, the Stella Artois Airstream is decked out with all best elements of your favorite local bars. Idol Beer Works of Lodi will also join in the fun featuring their teardrop trailer the Tappy Camper. Adding a new elevated experience to an already amazing festival.
This year's festival will once again include a wine tent for the first hour of the event. VIP ticket holders will enjoy early entry, a freshly baked baguette provided by Bella Luna Restaurant, an opportunity to sample unique beers and wines between 12 pm and 1 pm.
In an effort to encourage responsible drinking, a designated driver ticket will be available for $20. DD ticket holders are not permitted to sample alcohol however; we have added non-alcoholic beverages especially for this group. Designated ticket holders may enter the venue beginning at noon.
Stockton charity, Art Expressions of San Joaquin will feature innovative, creative, and fresh art pieces for purchase. Proceeds will help promote and showcase talented artists who do not have a dedicated storefront in the Central Valley.
The Central Valley Brewfest will be held on Saturday, May 11th from 12 pm to 5 pm at Stanislaus County Fairgrounds, 900 North Broadway, Turlock, CA. Passes can be purchased online at cvbrewfest.com or if still available at the fairgrounds the day of the event. All guests must be over 21 years old to attend. For more information on Central Valley Brewfest or to see a complete list of participating breweries and wineries, visit www.cvbrewfest.com.
Comments
comments
Middagh Goodwin LIVES Music. He has been booking and promoting Music, Art and Comedy for years in the Central Valley. He ran the award winning Plea for Peace Center in Stockton for 5 Years and has booked bands from A-Z. Middagh is beginning 2016 with a new position at the Gallo Center for the Arts and celebrating Beat Happy! Music's 30th Anniversary. Read the MAMAView every month and a the Needle Drop 52 Records 52 Weeks.