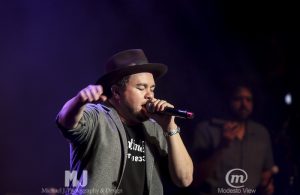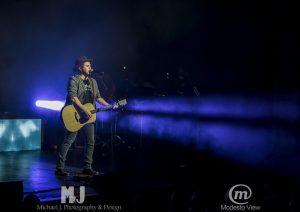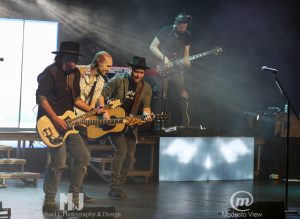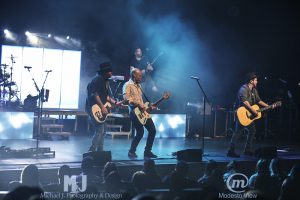 The Eli Young Band
Words & Photos by Michael Mangano
The ELI YOUNG BAND has always been unique in modern Country music – a true band of brothers who play their own instruments, write their own songs and cling fast to their Texas roots. Eli founded the band with guitarist James Young, bassist Jon Jones and drummer Chris Thompson. I've seen them once before a couple of years ago at Kat Country LAC in Turlock, but it was an outdoors show during the mid-afternoon, so I was curious to see what they would do at our Gallo Center for the Arts. I have to say I was very pleased with their high energy performances. They were so upbeat and sounded amazing I found myself singing along to many of their songs I knew beforehand including like "Drunk Last Night", as I was photographing every moment. They had a fantastic rapport with the audience early on which made the reaction to 'Even If It Breaks Your Heart' and 'Crazy Girl' even more momentous and the performance even more triumphant. One thing I look for when I am watching bands is to see if they are really enjoying performing together. These boys appear confident onstage and happily jam out with one and another and the crowd embraced the enthusiasm by dancing and cheering in their seats. The sound of applause at its finale left the boys grinning like a Cheshire cat before taking their final bow.
The Eli Young band has been together for nearly 20 years, forming this amazing band during their college days. So many great songs, and an array of #1 Hits, they have decided to compile them all and release their first Greatest Hits album, rightfully named, "This is Eli Young Band (Greatest Hits)! The album dropped on March 29. It is a 14 track album, Track 1 is the newly re-released, "Love Ain't" is one of my favorite songs. If your a fan of the Eli Young Band, this is a must-have album to add to your collection.
Here the video for Love Aint"
This Is Eli Young Band (Greatest Hits) Track Listing:
1. "Love Ain't" (Ross Copperman, Ashley Gorley, Shane McAnally)
2. "Even If It Breaks Your Heart" (Will Hoge, Eric Paslay)
3. "Drunk Last Night" (Laura Veltz, Josh Osborne)
4. "Crazy Girl" (Lee Brice, Liz Rose)
5. "Always The Love Songs" (David Lee Murphy, George Ducas)
6. "Dust" (Jon Jones, James Young, Kyle Jacobs, Josh Osborne)
7. "Saltwater Gospel" (Ross Copperman, Nicolle Galyon, Ashley Gorley)
8. "Guinevere" (Mike Eli, James Young, Scooter Carusoe)
9. "Skin and Bones" (Mike Eli, Phil Barton, Lori McKenna)
10. "When It Rains" (Eli Young Band)
11. "Small Town Kid" (Mike Eli, Chris Thompson)
12. "Highways and Broken Hearts" (Mike Eli, Chris Thompson)
13. "Where Were You" (Luke Dick, Matt Jenkins, Josh Osborne)
14. "Crazy Girl (Acoustic)" (Lee Brice, Liz Rose)