Featured Friday is our way of getting to know our neighbors, those who have a story to tell but maybe not a featured spread.  The artists, musicians, teachers, business owners and creators all around us. This week we asked a few questions of Octobers Cover Creatures, the Victorines. You may remember Rob and April from last October when they were the Monster and Bride of Frankenstien on our Cover and at the State Theatre.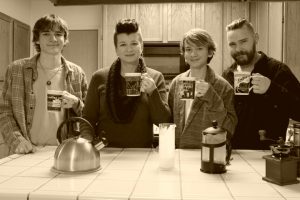 Introduce yourselves.
Hi we are Hope it Holds Cosplay and Props, also known as Rob, April, Mike, and Ethan.
Where is your homebase?
We reside in Lathrop, Ca but can be found all over the valley.
Tell us about yourselves? What are you passionate about?
By day we are a warehouse worker, an In home care provider and two college students.
How did you get started?
Our shared love of halloween and building sets and props for haunted house transitioned into a passion for cosplay. Cosplay allows us to escape the daily grind and become anything we want to be. Teaming that with joining cosplay groups heavily based around charity work such as Central Valley Costumers and the USS Balthasar we knew cosplay was our niche.
What do you do?
We never in a million years seen us doing anything more then building a couple of costumes and posing for a few photos at a convention. We are completely over the moon anytime we are asked to give an interview or judge a costume contest. Being centrally located smack dab in the middle of California gives us the opportunity to see so many awe inspiring costumers and prop builders…. we learn so much from this incredible community.
What has been a stand out build or event?
This year we executed our first ever group incognito cosplay at StocktonCon. Roaming around a con in a secret cosplay ( yip-yip Martians) unbeknownst to all of our friends was an incredible experience. Revealing later to them that it was in fact us they posed with….(lol).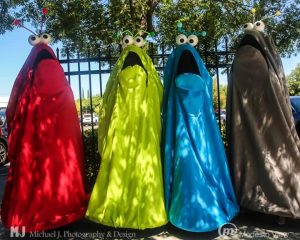 What is next for Hope it Holds?
Whats next for us, well…. we never know, we are currently working on holiday parade costumes and we are in our planning stages for next years conventions but have nothing set in stone.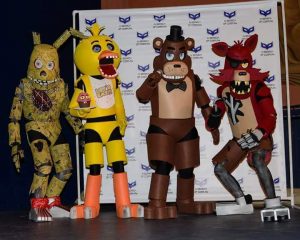 Biggest question of the interview, the Chris Murphy Question Beatles or Rolling Stones?
Rob- Beatles
April- Beatles
Mike- Beatles
Ethan- Beatles
I guess it is unanimous, the Victorines like the Beatles.
Middagh Goodwin LIVES Music. He has been booking and promoting Music, Art, and Comedy in the Central Valley for years. He ran the award-winning Plea for Peace Center in Stockton for 5 Years and has booked bands from A-Z. In addition, he is the managing editor of ModestoView and writes the MAMAView and GeekView. Middagh works with the Modesto Area Music Association and books Music in the Plaza. In addition, he owns and operates Graffiti-Con, where cars and pop culture intersects. More recently, Middagh has been working with the Graffiti USA Classic Car Museum, helping to create unique events that help raise funds and awareness of the museum and its mission. On top of that, you can tune into one of two shows that Middagh Goodwin hosts on KCBP 95.5 FM; This is SKA and MAMA Radio.