With Featured Friday we get to know our neighbors just a little bit better, teachers, business owners, artists and musicians. They inspire us not just with their stories but with what they accomplish every day. This week we talk to Kristy Moore of The Black Sheep's Ink and Black HeART Market.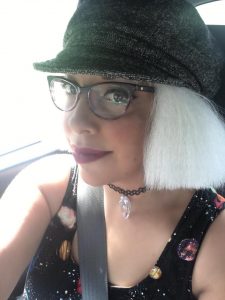 Name: Kristy Moore AKA The Black Sheep's Ink
Home Base:
The Queen Bean Coffee House
Coffee Shop- Restaurant- Event Venue
Owner Deborah Martinez
1126 14th St. Modesto CA
(209) 521-8000
What are you passionate about?
I am most passionate about making art, helping other artists succeed, art education, changing art culture, equality for all, and bringing new life to downtown Modesto.
How did you konw:
I am a lifelong Modestan and went to college for dance, studio art while attending Cal State East Bay. I remained in the bay area after graduation to obtain my multiple subject teaching credential at Brandman University.
Most of my years were spent living in Hayward and Concord, CA. while working in San Ramon and Walnut Creek. While in the bay I observed a diverse group of cultures coexisting with each other, but felt the real divide between the rich and the poor. I saw a real respect for the planet, art, and art culture, yet the streets where I lived were not safe. I learned many life lessons while going to school and working in the bay area. This inspired me.
Years later when I came back to Modesto I was shocked at what had happened to my home town. Downtown Modesto was a ghost town, there were drug addicts and homeless on the streets, nothing was what I had remembered it to be. Modesto had changed drastically; maybe it was always slowly heading in that direction and I was just naïve and oblivious to the changes when I came home to visit my family. No matter how it happened, I was shocked and saddened at what had become of my home town.
 Truthfully, for a second I wanted to just move somewhere else, but we can't run from our problems. I hear people grumbling all of the time about the state of this city. This is our city! A city is only a city because of its people, so why don't we take this "goat" by the horns and change things?! You see some high rollers in town making big changes, but you don't need money to make change, pun intended.  I started all of these businesses years ago without a dollar to my name and being seriously chronically ill. If I can do it, so can you. Change is solely dependent on the person and their ability to be resourceful.
One thing saved my faith in this city and made me want to fight for it. Despite all of Modesto's problems, the arts culture had never left, just incognito, cloaked, and given few opportunities and event venues to truly thrive. That is when I made my decision to do my best to change the arts culture and how people perceive the artists in Modesto.
I started attending events and selling my art under the business name The Black Sheep's Ink. This name comes from being the real "black sheep" in life. I was a child that was shy, picked on and made fun of; I was weird and had weird ideas. I never fit into any box, and I still don't. But, since I was a young child I had always felt I had a purpose; now I know what that purpose is. So I decided to turn my weirdness into something positive, something marketable, something I could share with all the other geeks and weirdos out there.
That is when I started The Black HeARTs Market over two years ago. It is a market for artists of all kinds: crafters, painters, musicians, jewelers, poets and etc. We do not charge artists a vendor fee, as it is hard enough to make money as an artist, plus we believe artists should be treated as guests. I hope someday that visual artists are treated more like paid musicians. Musicians bring in business and so do artists, so we think it's ridiculous to make an artist pay for making business better.
What are you particularly proud of:
I am proud of many things, but most importantly, I am proud of my relationship with The Queen Bean Coffee House and owner Deborah Martinez. I now work at The Queen Bean as a barista and the caretaker of the property. I love this place; it has saved my life so many times. Our motto is, "Where you belong!" and this is where you belong. This is a safe place for anyone who feels that they are a "black sheep" in this society.
https://www.facebook.com/queenbeancoffeehouse/
I am also proud of the art classes that Patrick Barr and I have created at The Queen Bean Coffee House, every Wednesday from 6-8PM and Saturday 3-5PM ($10 supplies included.).
For more info contact us here: https://www.facebook.com/SchoolofHardKnockART/
I am also proud of our working relationship with the Dragonfly Art for Life studio. Check out Patrick's classes, paint pour classes and much more at Dragonfly!
Patrick's classes are every Tuesday and Thursday from 4-5:30 PM and Saturdays 1-2:30 PM ($25 per student, all supplies included.) All of these classes are drawing classes that focus on comic art. All levels of experience and drop-ins are welcome!          
https://www.facebook.com/TheDragonflyAFL/
Dragonfly Art for Life, 1210 J St. Modesto CA 95354
I am also particularly proud of The Black HeARTs Market as we have grown over the years and our artists are top notch and some of the coolest group of people you'll meet. We all have our own businesses but we are also friends who work together to meet our goals. Teamwork pays off for everyone and that is why The Black HeARTS Market works and we keep snagging extremely talented artist and musicians!
If you would like to vend or play music for us or just have questions you can email us here: theblacksheartsmarket@gmail.com or message us here: https://www.facebook.com/theblackheARTsmarket/
What are working on next:
I am currently working on our next Black HeARTs Market event on Saturday May 11th from 11am-3pm at The Queen Bean Coffee House! Hope to see you all there!
If you'd like to learn more about Patrick Barr and me, check out our social media pages on FB and Instagram and our website.
FB:
 https://www.facebook.com/theblacksheepsink/
https://www.facebook.com/theblackheARTsmarket/
https://www.facebook.com/SchoolofHardKnockART/
Instagram:
@theblacksheepsink
@theblackheartsmarket
@blacksheepschoolofart
@pbarr2099
Website: theinkoftheblacksheep.wordpress.com
Chris Murphy Question: Beatles or Rolling Stones?
Beatles all the way baby! Actually, one song comes to mind right now: Come Together!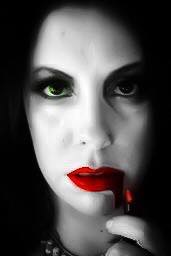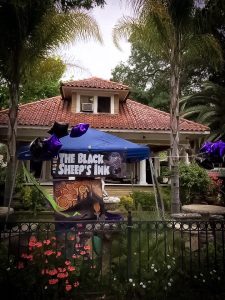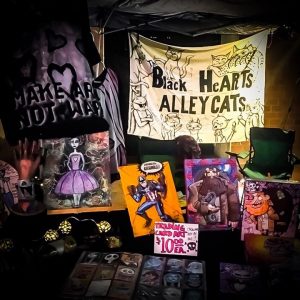 Comments
comments
Middagh Goodwin LIVES Music. He has been booking and promoting Music, Art and Comedy for years in the Central Valley. He ran the award winning Plea for Peace Center in Stockton for 5 Years and has booked bands from A-Z. Middagh is beginning 2016 with a new position at the Gallo Center for the Arts and celebrating Beat Happy! Music's 30th Anniversary. Read the MAMAView every month and a the Needle Drop 52 Records 52 Weeks.