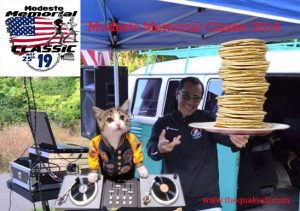 FitView: More Bang for your Racing Buck
By Efren Martinez
As Spring has now sprung, foot races are now in an abundance. That's great if you can afford to run every weekend. For myself, I learned early on, in my racing career that it isn't always affordable to sign up for every race. Yes, some races are better than others and even more so the importance of the charitable cause where the money is going. Let's face it, not everyone out there is looking to be part of a charitable race to help cats learn to be a Disc Jockey. This is why I not only pick and choose the charitable/cause/races closest to my heart but also which ones give me the most bang for my racing buck.
Friends if you're only planning on running in just one of the many great races in May, I recommend The Modesto Memorial Classic. This RUN features a 1-mile or 5-K race on a certified flat paved shady course along the Tuolumne River. Run or walk it, the choice is yours. It also has one of the best FREE kids fun runs. All kid fun run finishers will receive a medal.
Wow! If that wasn't enough all who registered for the race will be treated to a pancake breakfast as part of the registration fee for runners and walkers. Prize money is available to the top 3 men/women finishers and 1st master's (over 40) finishers in the 5k.
This Event is my personal pick for the month of May since it benefits the Modesto Veterans Center which helps returning combat veterans and their families. Please come join all of us especially our Veteran Hero's for this great event to help us kick off the Memorial Day weekend right. It takes place in a festival like atmosphere with yours truly, The Quake Mobile DJ, to help get you pumped up! Who knows, I may even bring out my Quake DJ kitty cat for a special guest DJ appearance on the turntables. To learn more about this special race and/or to sign up please visit the link below.
ww.facebook.com/modestomemorialclassic/
Modesto Memorial Classic 2019 Info: May 25th, 2019 7:00 am 1-mile & 5K run/walk -includes pancake breakfast for all paid runners/walkers. Tuolumne River National Park, Modesto.
Race Director: Barbara Miller barbaramiller1696@comcast.net
I answered the call back in 1983; mixing Music and Entertainment with an eccentric European style has always come easy for me. In the early 80's I was the Disc Jockey for most of the high school dances in Modesto. In the late 80's I found myself in Hollywood working as a dancer and sound engineer for various professional recording industries. In 1990 my wife of 25 years and I started (The Quake Mobile DJ ®) which was seeded from San Francisco's 1985, The Quake, radio station that only lasted a short while on the air. 26 years later The Quake Mobile DJ is bigger & better than ever in the Entertainment industry. Real-Estate, photojournalism, event promoter, saving animals, travel and fitness are a few other of my interests. I also enjoy motivational speaking to children and to those who are struggling with addiction. In my life, I have always been a very direct person and once I see a goal I won't quit till I've achieved it. But out of all of the above I feel in my heart that the best inspiration in my life is my wife and my love for the faith that I practice. Phil 4:20