FOREIGNER IN CONCERT!
DOUBLE VISION: THEN AND NOW
A CELEBRATION CONCERT SERIES
WITH CURRENT AND ORIGINAL BAND MEMBERS
FEATURING TWO GREAT BANDS. AN UNFORGETTABLE NIGHT!
By Efren Martinez
This will be a once in a lifetime celebration as both the original band members and the current lineup featuring and led by founding member and lead guitarist Mick Jones will come together on one stage to make it "feel like the first time"…
Double Vision: Then and Now October 12th 2019 at Black Oak Casino in Tuolumne, CA.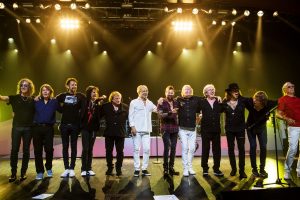 Just recently I had the pleasure to speak with original band member Rick Wills in regards to Foreigner's DOUBLE VISION: THEN AND NOW upcoming concert series with both original band members and the current line up. Having grown up listening to Foreigner it was by far one of the most enjoyable interviews I've done in a long while, you might even say it felt like the first time I did my first interview so many years ago. It made me feel Hot Blooded once again. On October 12th, Foreigner takes the stage at Black Oak Casino in Tuolumne, CA.
Interview: Foreigner, Rick Wills.
MV. With the resurgence of 80's Rock, what role do you feel that you have played in the lives of those who still seek your music?
Rick Wills. Most importantly, with all the things I've done in my life and with all the people I've worked with, is obviously the quality of songs. Quite frankly, I would have never have thought when I joined Foreigner in 1979, 40 years ago now. I would have thought by now other things would have taken over and we would have been forgotten but that hasn't happened. I mean FM radio, Rock radio still plays Foreigner, still plays Journey, still plays Styx. It's lasted so long cause it's good. We've had such a good time doing it, we're so lucky that we can still come together and do these reunion shows because we are having such a good time seeing one another. The current band that's on tour is doing a fantastic job of playing the classic Foreigner songs. We so much enjoy joining them for the occasions and we hope the fans do too.
MV. What have rehearsals been like as you come all together once again?
Rick Wills. Well, we had a couple of rehearsals last year, it was just like, it's weird. It's like when you learn to ride a bicycle, you don't forget once you get it. We just come together and we're just smiling at each other and wow this is amazing. I looked at Lou Gramm and said, does this sound as good to you as it does to me? He says I think it sounds better.

MV. What kind of response are you imagining your going to get from the next generation of fans in general versus your seasoned fans?
Rick Wills. So far from some of the reunion shows we've done, we've done probably 6 or 8 reunion shows over the last couple of years. It's been incredible, I mean we did the big biker festival out in South Dakota last year. There were fifty maybe sixty thousand bikers there maybe more and there was a whole range of age groups there believe you me, but I guess a lot of them were probably more in the age of 40's, 50's, 60's, 70's and 80's. But the response when we came on stage was amazing, mind-blowing, we were really moved by that, it just proves that a good song lasts the course of time and that's what we've managed to do. Mick Jones and Lou Gramm have written some great, great songs and I'm very proud to be part of that and to still be able to reproduce it on stage.

MV. What are some of the things you're preparing yourself for as you take the stage this October versus how the stage used to be in the 70's & 80's?
Rick Wills. Well, it's interesting that question because it is different now. Back in the 70's and 80's we had a lot of amplification and a lot of PA and monitors on stage because that's the way it was. It became almost like a battle on stage. It was who could be louder than the other guy kind of thing. The lead guitarist would be the loudest, or the bass player or the drums were loud. Poor Old Lou Gramm was in the middle, he was battling all this right behind him. It was difficult. Now it's completely changed. Now we use what we call in-ear monitors. These things fit inside our ears, they are very well built and extremely expensive but they've taken the place of amplification on stage. The speakers are now off stage so the sound is now padded away. Our amps are still around so we can adjust it if we need to. Our in-ear monitors, through our monitor guy on the side stage, gives us a mix that we individually choose to hear. It's perfect. So that allows our out front engineers who mixes our sound for the crowd to get a perfect balance from the stage so it tends to sound so much better now than it used to because it was like a big wash of sound back then if you were out in front or near the stage.

MV. How long can we expect the DOUBLE VISION: THEN AND NOW show to go for?
Rick Wills. We usually run the show for about an hour and 30 to an hour and 40 minutes. Depends on how we're feeling. What happens is that the current band will start the show and run half of the show, then a little intermission followed with the original band to come out and we do our thing for the next half of the show but by the end of the show we are all on stage together so that everybody gets a piece of the index. It's like a big finally, that's how we do the show and it really works.

MV. How many songs are you hoping to squeeze in during that time?
Rick Wills. Somewhere around 20 songs. We'd love to do more, but we have curfews and things to address such as timings to consider. We try and give as best value as we can. Although we may not get into all 20 for the night because sometimes we extend songs or Mick will want to take another solo or whatever it's just how we feel. It's just we try and create as much excitement as we can within reason.

MV. Can you give me a hint of some songs that may be on the setlist?
Rick Wills. You're certainly going to be hearing I want to know what love is, Hot Blooded, Feels like the first time, Double Vision, Head Games, Dirty White Boy and others.

MV. What can your fans expect from Foreigner's show on October 12th or any other DOUBLE VISION: THEN AND NOW show for that matter?
Rick Wills. We always try to do our very best on any given night. Sometimes there may be a little technical problem in which we can't always control, but that's just one of those things. I'd say it usually runs very smoothly. We have a great crew, very good people who work for us and a very, very excellent management team with people around us to look after us very well and we try and do our best. That's all we can do.

MV. Any message you'd like to send out to our readers about the show at Black Oak Casino?
Rick Wills. Ya' I'd just like to say we are really looking forward to coming out West to be out with all of you guys from the Modesto area and we're looking forward to playing Black Oak Casino. We hope you'll all be there. Let's Rock Out together.
Efren Martinez
Double Vision: Then and Now Concert Dates
October 3 Mohegan Sun Arena, Uncasville, CT
October 4 Hard Rock Hotel & Casino, Atlantic City, NJ
*October 12 Black Oak Casino, Tuolumme, CA
October 13 Ilani Casino Resort, Ridgefield, WA
Media
www.foreigneronline.com
www.facebook.com/Foreigner
twitter.com/ForeignerMusic
www.youtube.com/user/FWebTeam
PHOTO CREDIT: KARSTEN STAIGER
Press Release
Friday, November 15th, FOREIGNER will release 'Foreigner – Double Vision: Then And Now,' a CD+DVD release that takes us behind the scenes as original FOREIGNER band members including Lou Gramm joined Mick Jones and Foreigner's current lineup for a once in a lifetime reunion concert for the very first time in the band's 40-year history. Both incarnations of the band share the same stage for an epic performance.

'Foreigner – Double Vision: Then And Now' will be available on CD+DVD, Blu-ray + CD, Limited 2LP + Blu-ray and Digital and can be pre-ordered here: https://Foreigner.lnk.to/DoubleVision-ThenAndNow
Comments
comments
I answered the call back in 1983; mixing Music and Entertainment with an eccentric European style has always come easy for me. In the early 80's I was the Disc Jockey for most of the high school dances in Modesto. In the late 80's I found myself in Hollywood working as a dancer and sound engineer for various professional recording industries. In 1990 my wife of 25 years and I started (The Quake Mobile DJ ®) which was seeded from San Francisco's 1985, The Quake, radio station that only lasted a short while on the air. 26 years later The Quake Mobile DJ is bigger & better than ever in the Entertainment industry. Real-Estate, photojournalism, event promoter, saving animals, travel and fitness are a few other of my interests. I also enjoy motivational speaking to children and to those who are struggling with addiction. In my life, I have always been a very direct person and once I see a goal I won't quit till I've achieved it. But out of all of the above I feel in my heart that the best inspiration in my life is my wife and my love for the faith that I practice. Phil 4:20