Free TV and Movies
By Michael Mangano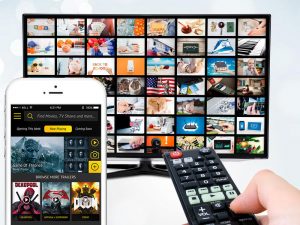 Now that we are stay at home you may be looking for more entrainment on a tight budgets.  You might have already cut cable and satellite for streaming services such as Netflix, hula, Amazon Prime, Disney Plus and Apple . We know many of you who have lost jobs and may be on a even tighter budget we hjave found streaming site at no cost to you That's right, these sites are free! Naturally, you get what you pay for, so don't expect all the original, exclusive content that the others provide, as well as the luxury of watching movies and TV sans ads. But, if you're looking to save a few dollars and cut the paid streaming sites, then we recommend these free streaming services and sites:
Many of these streaming sties can be watch on your PC or Streamed  on Android, iOS, Roku, Apple TV, Amazon Fire TV devices.
1. IMDb TV
The service that was once known as Freedive allows users in the United States to watch TV shows and movies for free on IMDb and Fire TV devices and pc. Some good Moives and Tv Shows
https://www.imdb.com/?ref_=nv_home
TV and movie goers can enjoy an "always-changing selection of free movies, shows, live news, kids' TV and more like ABC News and Cheddar News. Stream on Roku devices that connect to your TV; just find the Roku Channel or on a PC
https://www.roku.com/whats-on/the-roku-channel
3.Tubi
With content from over 200 partners, Tubi features thousands of hours of streaming video content from studios like Paramount, Lionsgate and MGM. With no subscription fees,
4. Pluto TV
Over 100 live and original channels, including Paramount Movie Channel, CNN and NBC News and Nick Jr, as well as thousands of on-demand movies in partnership with TV networks, movie studios, publishers and digital media companies. It
http://pluto.tv/live-tv/pluto-tv-animals
5.Vodu
No contract or subscription is required to watch movies and TV shows with limited commercials on Vudu. Users can choose from thousands of free movies, such as  Leather Weapon Happy Feet or Karate Kid, to watch on their mobile device, TV and computer—plus view in up to 1080p!
https://www.vudu.com/content/movies/home
6. Sony Crackle
Sony Crackle is an ad-supported video entertainment network that features full length movies, TV shows and original programming. The service is available on several platforms and devices. Large collection of Old Tv Shows like Bewitch, Charlies Angels and the Ellen tv show.
7.Hoppla
The Stanislaus County Library offers Hoopla Digital, a new, refreshingly quick — and free — way to get audiobooks, comics, eBooks, movies, music, and television shows. All Hoopla content is available on demand. No holds necessary. No waiting. Users can access their selections via online streaming. Audiobooks may be temporarily downloaded to a mobile device for listening without an internet connection. You do need a library card
https://www.hoopladigital.com/
8. Popcornflix
As the site notes, Popcornflix was created for people "who want to watch 'Great Movies. Free.' Now you're not going to see Oscar worthy movies but a few worth making some popcorn for like The Time Machine, Ninja Turtles and Tv Shows Like Third Rock from the Sun. Just find the movie or show of your choosing, and hit play to watch on the ad-supported site.
9. Xumo
The ad-supported streaming site, available in the continental United States, provides free live and on-demand entertainment. Users can pick from over 160 different channels to tune into the Today show, Family Feud and Fox Sports, or watch full length seasons of shows, in addition to movies. XUMO can be viewed on, iPhones, iPads, Android devices, or on Roku.
Need to download from App store
10. Youtube
The video sharing platform isn't just for adorable animal clips and music videos—YouTube also has a limited section of free movies with ads, including The Pink Panther and Wish Upon a Star. While the site also provides shows, users have to purchase in order to view them.
Youtube.com
11. NFL Game Pass
NFL network has made available Nfl Game pass free til 5/31/20. Access full broadcast replays, condensed games in ~45 minutes, and the all-22 coaches film.
12. CWTV
The CW app on your Apple TV, Roku, or other devices will allow you to watch CW shows on demand for free – but that only includes the latest few episodes (about five). The library available far from exhaustive but you will be able to see a lot of what the CW has been showing recently. In addition, there is an app called CW Seed which lets you watch entire seasons of old shows (like Pushing Daisies or Whose Line is it Anyway) without any subscription at all.
I would recommend adding a few of these channel/app so you have more options of what to watch.