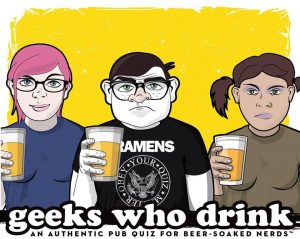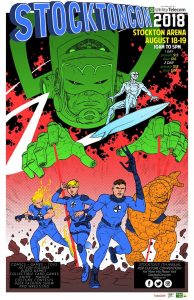 By Middagh Goodwin
First off Graffiti-Con kicks the month off on July 1st at Modesto Centre Plaza, looking forward to a fun day for the entire family and looking forward to doing it all over again next year. Look for photos from the event on the ModestoView Facebook page.
Have you been to St Stan's on a recent Thursday Night? If so then you know all about Geeks Who Drink, it is not your typical Quiz Night. Shy Lloyd host the night of Trivia and fun and everyone is welcome to play along. You play on a team of up to 6 people, and it is your combined knowledge that will help you win or lose, and that is what makes it so much fun. Test your mettle against each other on such diverse topics as music, pop culture, movies and history. Win cool prizes all while enjoying some fantastic pizza and local craft beer. Every Thursday at 7 pm at St Stan's 1028 11th Street. Get there early to get a good table.
Hero's Vault is changing their name and moving once again to a new location. Opening their new doors on Wednesday, July 4th for New Comic Book Day. Modesto Comics will be opening at their new location at 3321 McHenry Ave Suite B1. Check them out for all your Comic, Toys, Cards and Collectible needs.
Thursday, July 5th 6-7:30 pm at Brenden Theatre catch the premiere of Ant-Man and the Wasp and take pictures with members of the Central Valley Costumers dressed up as your favorite Marvel Characters.
Saturday, July 7th at Graceada Park is the Second Annual Fantasy RenFaire. Vendors, Artisans, Crafters and more will be selling their wares. You should also expect a falconry display, archery, knightly combat and people dressed in costumes. There will also be live music and food vendors.
Saturday, July 21st at the Emory Hall there will be another Ohana Anime-Comic Con there will be vendors and artists along with guest cosplayers and a cosplay contest.
StocktonCon is coming August 18th and 19th to the Stockton Arena and if you have gone you know this is the gold standard of Northern California Cons. This year host an impressive lineup of guest including Rachel Leigh Cook, John Noble, WWE wrestler Christian and Sting. If you enjoyed the Geek Fashion Show at Graffiti-Con don't miss it at StocktonCon. Add to that established comic artists, voice actors and tons of vendors and you will find there is something for everyone. Advance tickets are $13 for a single day or $18 for the weekend.
Remember Geek is Chic, let us know of any cool events, store openings or happenings in the Central Valley.
Comments
comments
Middagh Goodwin LIVES Music. He has been booking and promoting Music, Art and Comedy for years in the Central Valley. He ran the award winning Plea for Peace Center in Stockton for 5 Years and has booked bands from A-Z. Middagh is beginning 2016 with a new position at the Gallo Center for the Arts and celebrating Beat Happy! Music's 30th Anniversary. Read the MAMAView every month and a the Needle Drop 52 Records 52 Weeks.