GeekView: LatinX Comic Art Festival
By Dr. Theresa Rojas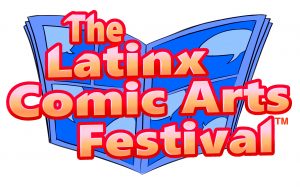 Just when you thought things couldn't get better this March, Modesto Junior College is hosting the Latinx Comic Arts Festival (LCAF). Directed by Dr. Theresa Rojas, the Festival will have almost 60 tables of comic art creators as well as 10 panels and workshops over two days
LCAF is the Central Valley's celebration of Latino creators and friends, which means highlighting some of the most talented folks in the country. This FREE comics convention features cartoonists, writers, artists, animators, storyboard artists, and more. Even better, it's an ALL-AGES, FAMILY- FRIENDLY event open to the community!
We expect this year's Festival to hit record attendance. If you missed it last year, you're in luck as most of our exhibitors are returning. Joining them are about a dozen new creators working across the comic arts.
Who can you meet at this year's Festival? Among our 2020 exhibitors is the ever-popular Javier Hernandez whose El Muerto series is taught at MJC! Award-winning Rafael Navarro, creator of Sonambulo and co-creator of Guns A' Blazin' is returning, as are Crystal Gonzalez with In the Dark, and Jaime Crespo with the fifth volume of Tortilla. Cathy Camper, creator of Lowriders in Space returns with her books and zine-making workshop. Professor Latin-X himself, Frederick Luis Aldama joins us with the Eisner award-winning, Latinx Superheroes in Mainstream Comics, and his new children's book, Chupacabra Charlie. We will also welcome back 5Meats, Pepe Melan, Isabel, Quintero, Jason Gonzalez, Robert Liu Trujillo, Jose Cabrera, Nicky Rodriguez, Daniel Parada, Qetza Art, Ironclad Press, Daniel Parada, and Henry Barajas, among many others! See the complete list on our website https://www.latinxcomicartsfest.com/
This year's phenomenal poster artist, Candy Briones brought the heat with her gorgeous design from her studio, Taco El Gato. We also welcome back Fanbase Press, who is hitting it out of the park with Quince, now out in the Definitive Bilingual Edition with a study guide from Dr. Rojas. Visitors can also meet Festival newcomers and our favorite comic shop, INVINCIBLE COMICS!
Finding the building: MJC's West Campus is highly walkable/accessible. Park on the Blue Gum Avenue side (required on Saturday when the Festival will share the west campus with the Ag Field Day), Mary Stuart Rogers (MSR or Building 16) is just a short stroll from Lot 211. Walk between Sierra and Yosemite Halls and you're there. It's the building with the silver turret. Look for the registration table out front. See you there both days!
The Latinx Comic Arts Festival! March 20-21, 2020, 11am-7pm both days at Modesto Junior College West Campus, 2201 Blue Gum Avenue, Modesto, CA. Mary Stuart Rogers Building.
FREE PARKING FREE EVENT, open to the public
More: https://www.latinxcomicartsfest.com/ IG/Facebook: @LatinxComicArtsFest Twitter: @LatinxComicArts
Contact: Dr. Theresa Rojas (209) 548-5857 or rojast@yosemite.edu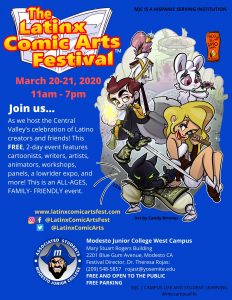 ModestoView features contributors from our community on a regular basis. We enjoy and welcome these honorary ViewCrew members. If you would like to message them, email to info@modestoview.com