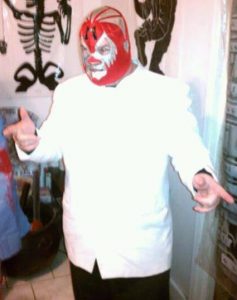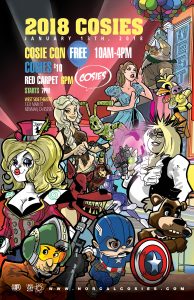 GEEKView The Cosies are Coming
By Middagh Goodwin
The Cosies have become such a fun event and helps to join together the Cosplay Community not just in the 209 but in Northern California. Celebrating Three years at the West Side Theatre in downtown Newman California on Saturday, January 13th. The day is kicked off with a FREE mini-convention with 30 Artists and Vendors, panels, the first Geek Fashion Show of the Year and special themed performances by Spotlight Dance Company. The Con is FREE and goes 10am-4pm.
By 6 pm the venue will have been transformed back into a dinner theatre, and the Red Carpet Award Show takes place with all the glitz and glitter that you would expect. The contestants have already been narrowed down to the Top 3 in 9 categories. Those in attendance are the academy and will vote for their favorite.  The Cosplay photographer is the only award that is prejudged(ModestoViews very own MJ Mangano is a finalist). Come out early dressed as your favorite characters from comic books or video games and then dress up in your finest for the Awards Show. All proceeds from the Cosies will be donated this year to Welles Remy Crowther Charitable Trust.
On January 10th bring the kids out to Modesto on Ice in downtown Modesto to take pictures and skate with their favorite Hero's and Villians at Comic-Con on Ice. This fun event is brought to you by NorCal Cosies and Modesto on Ice, there will be two sessions 5:30 and 7 pm. Everyone is encouraged to dress up if they want to.
January 14th Ohana Con will be in Patterson for a one-day convention at the FDES Hall. Cost is$5 in advance or $6 at the door. There will be Artists and Vendors and a Cosplay Contest and special Cosplay Guests MCH Cosplay and Red Rai.
These are all family fun events and encourage creativity and the arts so bring the whole family and have some fun.
Some of the Artists and Vendors that will be at the Third Annual Cosie Con in Newman.
Comments
comments
Middagh Goodwin LIVES Music. He has been booking and promoting Music, Art and Comedy for years in the Central Valley. He ran the award winning Plea for Peace Center in Stockton for 5 Years and has booked bands from A-Z. Middagh is beginning 2016 with a new position at the Gallo Center for the Arts and celebrating Beat Happy! Music's 30th Anniversary. Read the MAMAView every month and a the Needle Drop 52 Records 52 Weeks.