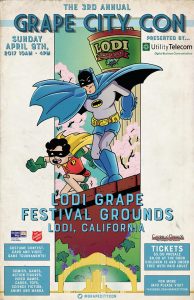 Grape City Con Returns April 9th
StocktonCon partners with United Way of San Joaquin and Salvation Army Lodi for a new Pop Culture Convention at the Lodi Grape Festival Grounds
StocktonCon Events presents the Grape City Con, returning to the Lodi Grape Festival Grounds on Sunday, April 9th, 2017. The one-day pop culture convention will run from 10am-4pm. The first Grape City Con, held February 2015 and again last February exceeded expectations with over 2,500 fans turning out for the event. Ticket prices for the one-day event are $7 at the door and $5 in advance at select locations and online at http://grapecitycon.com/tickets
The event will again feature over 100 exhibitors and artists, with more than 40,000 square feet of exhibitors, artists, panels and gaming. The Chase Chevrolet Costume Contest will take place in Jackson Hall at 4pm. A portion of the proceeds from the Grape City Con will benefit the Salvation Army Lodi and United Way of San Joaquin. Pro Wrestling Bushido will again hold an afternoon wrestling show just outside the main halls.
Several celebrities will highlight this year's guest list, including Aaron Schwartz(Guardians of the Galaxy Vol.2/The Mighty Ducks), Zach Ward(Christmas Story/Transformers), Cameron Jebo and Ciara Hanna(Power Rangers) will be at the Grape City Con. Chris Marrinan, Ramon Villalobos, Dan Brereton will highlight Artist Alley.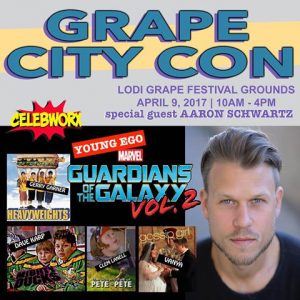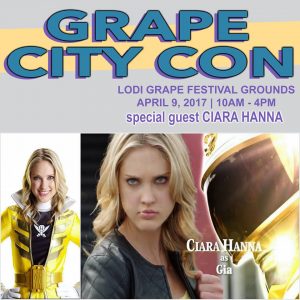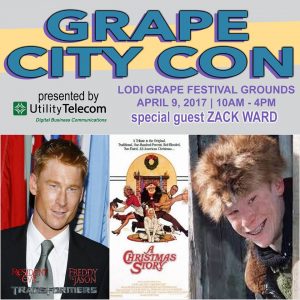 The mission of StocktonCon, the Grape City Con and the Central Valley Con is to raise awareness of outstanding artists in the San Joaquin Valley area – and to give attendees the chance to experience Popular Culture (Comics, Card Games, Video Games, Cards, Anime, Manga, Science Fiction, Toys, Television and Movies). It is also Grape City Con's intention to raise awareness and funds in conjunction with United Way of San Joaquin County and the Salvation Army of Lodi.
You can follow the Grape City Con on Twitter by using the @grapecitycon username and on instagram by following the @stocktoncon account. Organizers can be contacted at GrapeCityCon@yahoo.com
http://facebook.com/grapecitycon
http://twitter.com/grapecitycon

Special Thanks to Sean Miller for the terrific poster! Anchor Comics
Comments
comments
Middagh Goodwin LIVES Music. He has been booking and promoting Music, Art and Comedy for years in the Central Valley. He ran the award winning Plea for Peace Center in Stockton for 5 Years and has booked bands from A-Z. Middagh is beginning 2016 with a new position at the Gallo Center for the Arts and celebrating Beat Happy! Music's 30th Anniversary. Read the MAMAView every month and a the Needle Drop 52 Records 52 Weeks.