If you luv music you're gonna love this
By Eric Benson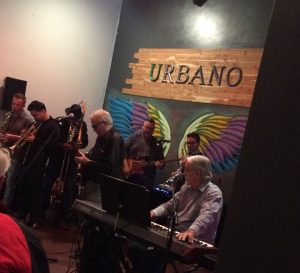 Blue Monday Party returns to its new home Café Urbano, formerly of Clayton's Restaurant where we did Blue Monday for almost 700 Blue Monday's over 8 years. Last Blue Monday there we had 70 people who stayed to the end with great food, and music on a blustery Monday night. Shout out to Halley Smith and Zowie and Eddie who manned the Merchandise table and played some great Blues for teenagers. The Blue Monday Band with Barry Finerty on guitar from Miles Davis Band hosted the Jam and was on fire! Thanks all who came out and continue to support all the way live music right here right now Motown Downtown.
                The Blue Monday Party returns to Café Urbano, formerly of Clayton's Café returns January 13th with special guest Barry Finerty Jazz Guitar. Barry will be playing with house band will feature Johnny Valdes Guitar, Conrad Johnson and John Adey Bass, Dave Hawks' drums, horn section Raul Slaps & Jamie Dubberly Bone, Kevin Marin Trumpet, Andrew Rosenblum Sax, and Keys David Dow and Eric Benson. We will be playing some of Barry's arrangements as well as some Jazz, R & B, Funk, Rock, Latin and of course the Blues. Gig from the downbeat of 7 PM, goes till 10 PM. I have booked some nice shows upcoming Café Urbano, check it out; Jan 19th Johnny & Kelly appreciation Day Jam celebrating their Best Blue Collar winners Mama awards with special guests, Jan 26th Virtuoso Jazz Guitarist playing Duo with Johnny Valdes with jazz jam to follow, Feb 11th with Blue Monday Band with Barry Finerty Jazz Guitar, Feb 16th Latin Rock tribute playing the music of Santana and other with front man R.J. Hawks front man and house band Latin Rhythm Rockers, March 15th the RETURN OF THE CHRIS CAIN BAND!, March 29th theatre piece with Bruce Forman Jazz guitar doing The Red Guitar theatre Piece with to follow playing with Barry Finerty, Johnny Valdes with Rhythm section for a guitar blow out!.
                And John Griswold of Red Tie Arts is coming back with Calendar Jan 11th A Night at the Museum with Boca Do Rio Brazilian Space Funk McHenry Museum to start the season. Check out WWW.Redtiearts.org to the lowdown on the how down. The space is a wonderful nightclub experience intimate with table seating with beverage and deserts available. Hope to see you there!
And don't go looking for the Dave Dow Thursday night jam at the Barkin' Dog as it has changed to the Ralston's Goat on 10th street. Dave's Jam has the same hours 7 to 10 PM for people to sit in a play with the house band.  
    The new season for the Gallo in is with diverse offering. In January featuring: 17th & 18th Carol Ding Musical tribute, 24th though 26th Modesto Symphony Orchestra and save the date my fav Feb 22th Sheila Escovedo, Sheila E formerly of Prince coming!
                All the best, peace out! Eric Benson, cell 209- 918-7033, email; Mbenson@fire2wire.com.