Leading Democratic Presidential Hopeful Mayor Pete Buttigieg Comes To The 209
By Carrie Shea Photos by Gerald Shea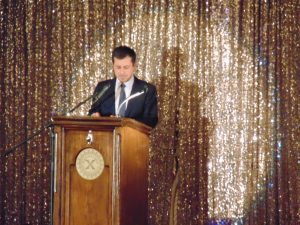 On Valentine's Day 2020 the 209 was stirring with romance. People were dressed in their best running out to their Valentine's Day date locations. In Turlock, CA there were people dressed in their finest for another reason. At the Stanislaus County Democratic Central Committee's annual night of celebration and recognition fundraiser, their keynote speaker was Mayor Pete Buttigieg, the current leading Democratic candidate for President of the United States.
Event organizer Jessica Self put on a beautiful event, and it felt all-inclusive to anyone with any interest in the political climate of not just the local scene but the country. There were many awards presented throughout the evening while the guests sat and dined on a beautiful dinner of multiple courses which were stretched out through the evening. Live music was played, and the bar in the back was hopping. We had the opportunity to meet and talk to so many interesting people including high school volunteers from many local area high schools who got this chance because they are in government classes in school. It is extremely exciting to see youth, even those too young to vote yet, getting interested in the importance of our rights to choose our government, and how important it is for us all to be informed.
Once the guests were all notified to return to their seats because Mayor Pete had arrived you could have heard a pin drop in the crowd. As he walked through the double doors at the back left-hand side of the room all eyes were focused.
He started his speech with "Good evening. All right you all are making me feel right at home. Thank you. What a treat to be back in the Central Valley. I bring greetings from my mother who was born in Modesto. Only in America can an army brat born in Modesto marry a Maltese immigrant that she meets in southern New Mexico then settle in Northern Indiana and have their son wind up running for President of the United States."
As a veteran he spoke about our military needs "There's an American majority ready to recognize that honoring our troops is not just about a bumper sticker, it's about making sure that they are never sent into endless war or conflict that could be avoided by our leadership out of the White House in the situation room."
He spoke about violence in the schools "When a thirteen-year-old let me know that she had asked for Christmas for a Kevlar backpack. She can't wait for us to act to take the commonsense steps that reflect our knowledge that the second amendment is not an excuse to do nothing at all to keep our children safe from gun violence. We gotta act!"
Mayor Pete covered his personal LGBTQ experience growing up  "My belief in American belonging is reflected in my experience before you right now, as somebody who is not that far removed from the memory of being a teenager in Indiana wondering if he would ever fit in this world, wondering if something about him meant that he would always be on the outside, would never serve in uniform or in office, would never be accepted, would never even know love. That very same person is standing in front of you leading right now in the delegate race for the nomination for the President. A veteran, a mayor, bringing Valentine's Day greetings form my loving husband in South Bend Indiana. So I believe in what can happen if we get things right in this country and we had better get things right now! So if you're ready to build an American life defined by belonging this is our chance."
Candidate Buttigieg spoke on healthcare "Even more powerfully we can come together in the name of what it is we're for an American majority determined to insure there is no such thing as an uninsured American or unaffordable prescription and ready to deliver Medicare to all of those who want it and healthcare solutions for everybody. That is what we stand for." He shared a very powerful story about an eleven year old boy in Iowa who raised his hand and asked him what he was going to do about affordable prescriptions because he, at his age, was already worried about how he was going to afford his lifesaving insulin when he was older.
The Presidential hopeful's speech concluded with a standing ovation in the room. After his speech he immediately had to leave which sadly made some people feel a longing to have not had the opportunity to meet him and to ask and hear more, it is known that he has a busy schedule and on this night he was the Key Note Speaker so it was not the event to get to ask him questions directly. I truly hope to see him come back to the 209 before super Tuesday, as well as to see the other hopefuls come to our area, because I know the Valley has important things, they want to know, and deserve to know from all the candidates before making their well informed decisions on March 3 at the polls.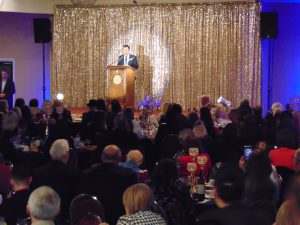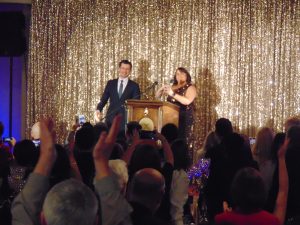 Comments
comments
ModestoView features contributors from our community on a regular basis. We enjoy and welcome these honorary ViewCrew members. If you would like to message them, email to info@modestoview.com