Loza Has an Updated Menu!
by Brandilyn Brown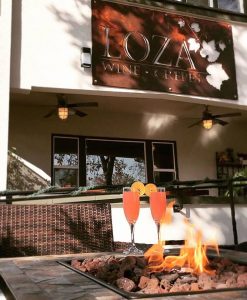 One of my favorite places to eat is Loza Wine & Crepes in Turlock. They update their menu often, using the best fresh local produce that is in season. All the dishes are gorgeous exotic creations, worthy of our adoration. They have recently updated their menu again, and of course I had to go try the yummies!
I usually order the Garlic Mushroom Crepe (with chicken added for protein), so when I saw the Honey Garlic Shrimp Crepe, I knew it was up my alley. It was a perfect balance of sweet and tangy. The dill really compliments the honey garlic sauce. Using veggies in season, it had zucchini, carrots, mushrooms and onions, with a just a touch of cheese and drizzled with their Russian sauce.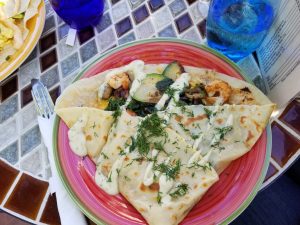 Then I ordered the new breakfast sliders to split with my table. They were fantastic and filling. Three mini sandwiches with egg, sauce and bacon, garnished with a small salad of greens, onions, avocado and tomato.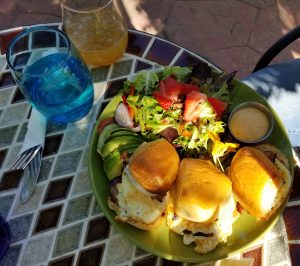 Not only are the crepes absolutely divine at Loza, the other reason I love this place is that they serve sweet wines and mead. It's pretty rare these days to find a tawny port or mead on a menu, so I flock to eateries that do. You can now get a glass of Rabbit's Foot sweet mead for $9. It's a great intro to mead, if you've never had it before and want to try a glass. As predicted, I also ordered and Sun Beam and Bubbles; a mix of Sunol and Tsymbal's Sun Beam tawny port ($8). In my opinion it's better than a mimosa, but if you are a mimosa fan, they've got the best in Turlock! Don't take my word for it, come try them yourself!
Stop by between 2pm and 6pm Wednesday through Friday for happy hour: 20% off the menu!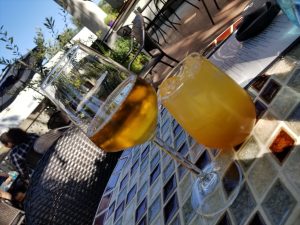 Loza Wine and Crepes
601 E Main St, Turlock, CA 95380
Comments
comments
Bring on the rain, and a bottle of Wonky & Wry's Honey Braggot Ale. Loves to roast marshmallows over a fire. Enjoys the mix of cigars and whiskey.