MAMAView: Lights, Snow and Holiday Cheer
By Middagh Goodwin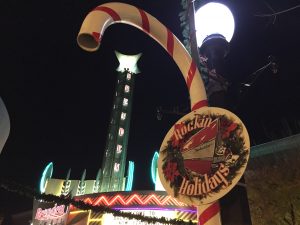 Hope everyone had a wonderful Thanksgiving and if you went out shopping for gifts on Friday or Saturday that you shopped local and shopped small. It is more important this year than ever before to support our locally owned businesses and that includes restaurants, bars and cafes(especially those who support local music.)
Have you had a chance to check out the new Rancho Fresco Cantina? Maybe tried your luck on the mechanical bull or had one of their wood-fired pizzas? There is a nice size stage and they will be hosting lots of live music in the coming months. We are expecting fun things from this new downtown destination. Another great spot downtown is Ralston's Goat and on December 12th(my birthday) ModestoView publisher Chris Murphy will be performing 12-3 pm so swing by, wish me a Happy Birthday if you see me and enjoy a wonderful brunch.
A must support event happening on December 19th at the Prospect Theater Project is Music for Marirose a cancer benefit featuring some of Modesto's seasoned performers helping raise money. Catch A Gathering of the Vibes, Triple D, Mike Allsup, Chris Murphy, Melynda Rodriguez, The Wrong Doers, Tiffany Rose and more.
It wouldn't be December in Modesto without Rockin' Holidays in the 10th Street Plaza, come on down and enjoy the sparkling lights, Santa, the Elves, the Snow and Pixel Light Tree and of course Music Thurs-Sat starting December 3rd until the 23rd. The Tree Lighting is Friday the 3rd this year and the David Perez Band will get you dancing with their latin sounds all night long. On the 4th come out early and enjoy the Celebreation of Lights Parade; then head over to the Plaza to catch Tiffany Rose and the Outlaw Hearts. The 9th High Street Blues band will perform 7-9 pm with Melynda Rodriguez playing Holiday classics starting at 6 pm. On the 10th Gary Gervase and the Kicks Start Blues Band will be playing some good rockin' blues for your enjoyment. Enjoy a Cajun Christmas with the BluesBox Bayou Band on the 11th. Horizon Point will be playing some holiday favorites along with their original and indie rock hits. A crowd favorite whenever they play Threshold will be bringing their big horn sound to the Plaza on the 17th. On the 18th we have the David Dow Band playing Latin, jazz, funk and holiday songs for you all to enjoy. Ending the season on the 23rd will be the Ava Grace Trio so you will not want to miss a single night of Rockin Holiday.
Check out the NYE Events list and of course our packed calendar in the back of the magazine for more things to do in and near Modesto. Happy Holidays and looking forward to a brighter New Year.
Middagh Goodwin LIVES Music. He has been booking and promoting Music, Art, and Comedy in the Central Valley for years. He ran the award-winning Plea for Peace Center in Stockton for 5 Years and has booked bands from A-Z. In addition, he is the managing editor of ModestoView and writes the MAMAView and GeekView. Middagh works with the Modesto Area Music Association and books Music in the Plaza. In addition, he owns and operates Graffiti-Con, where cars and pop culture intersects. More recently, Middagh has been working with the Graffiti USA Classic Car Museum, helping to create unique events that help raise funds and awareness of the museum and its mission. On top of that, you can tune into one of two shows that Middagh Goodwin hosts on KCBP 95.5 FM; This is SKA and MAMA Radio.