Week 2 for the IWFL team the Modesto Maniax, as they take on the So-Cal Breakers.  The So-Cal Breakers will be traveling from the Mission Viejo/Irvine area for their first game of the season, after a week one bye.  Game time at Roy Blakely field on the campus of the Modesto Christian High School is 7pm. The Maniax are lookin forward to the Breakers..  Coach Tony Cotta, said,"We have played the Breakers many times, and they are a great team.  We will be ready on Saturday" 
Modestomaniax.com reports that the Maniax only win last season was against the Breakers.  In fact in 3 years of IWFL play the Modesto Maniax have only won "one" game.  That win, being last years Breakers victory.  "We're in search of win 1 for this year, and so are the Breakers, it should be an interesting game!" Dineen Goodwin said from the home office on Tuesday.
Halftime entertainment will be named at modestomaniax.com  A great snack bar, and fun by all.  The Maniax first game against the West champion, Sac Sirens was 21-14 with attendance near 700..  Come see the Maniax play.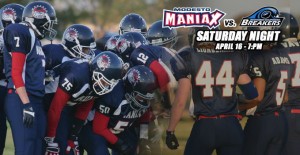 Comments
comments