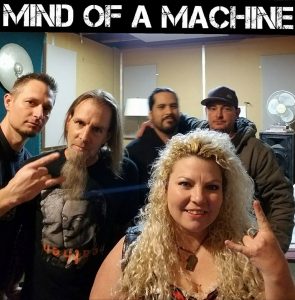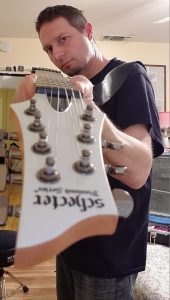 MetalView
: Mind of a Machine
By Eve Oberlander
Mind of a Machine is a band from Modesto and Los Banos and has been around since 2013. Collin Torres, Lead Guitar and Chico Barker, Drums are the original members with Roger Guajardo on Bass and Eric Doran on Vocals. Each member has been in previous killer bands from the area such as Modesto legends, Siep, American Witch, Wicked Hickie, Beyond All Brutality, Forever Obscured and The Bone Man.
I want to share with you a little back story and history about Collin Torres, Mind of a Machine's driving force. Collin started playing the drums in 1986 and the tender age of 8. Once he got into high school he wanted to switch to guitar but his Mother wouldn't let him sell his drum set so he continued playing the drums. In 1994 Collin and two other musicians formed the band Carcinogen. One of those members was Modesto's Jimbo Warr Guitarist, of 17TEN and The Venting Machine who played bass. Carcinogen got a new bass player and moved down to Los Angeles in 1998. That's when they changed the name to Depswa. Depswa started playing big clubs down in LA where they eventually got noticed by Glenn Danzig, Corey Taylor and Sharon Osbourne. Collin and his band Depswa played a private show for Sharon Osbourne at SIR rehearsal studios on the Sunset Strip. After that, Geffen Records set up the band with a private show at the Viper Room. Corey Taylor, of Slipknot and Stonesour, came to Depswa's house a few times partied and watched the guys play their set. Once they played for Corey, he wanted to sign them to his record label, Maggot Records. The band ended up getting signed to Geffen Records. During this time Collin and his band got to play a show with Danzig in San Diego, and they had Disturbed open for them at the Troubadour in Hollywood.
Personality differences lead Collin to leave Depswa and at that moment, Collin joined three bands all at once. They were 151, Stigma and Jet Motor Crash. Stigma went on to have major motion pictures (Without a Paddle and Epic Movie), TV spots like Nickelodeon and MTV. Stigma's music is also on VH1's Pantera Behind the Music. Stigma got to record in Steve Vai's recording studio, The Mother Ship, located in the Hollywood Hills. Collin's band 151 went on to play shows with Mastodon, Sevendust, Kottonmouth Kings and Hed Pe and did one national tour. His band Jet Motor Crash also did a couple of national tours.
After all of this, Collin moved back to Los Banos, sold his drums and bought a guitar. He started writing songs which became songs for Mind of a Machine. They are currently recording at The Ice Chamber Studios, located in Modesto, and should be releasing a six-song EP later this year. With musical influences such as Pantera, SoulFly, Devil Driver, Fear Factory and Static X, this albums gonna be dope. For booking info contact 
151collin@gmail.com
Comments
comments