MODESTO SYMPHONY ORCHESTRA'S PICNIC AT THE POPS PRESENTS ARETHA: A TRIBUTE 
FEATURING THE MUSIC OF ARETHA FRANKLIN, STEVIE WONDER, AND MORE STARRING CAPATHIA JENKINS AND DARRYL JOVAN WILLIAMS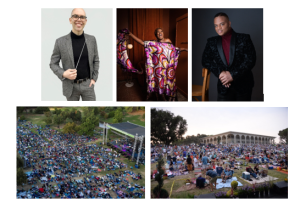 MODESTO, CA – The Modesto Symphony Orchestra proudly presents Picnic at the Pops! Aretha: A Tribute this September 9, 2023 at 7:30 pm on the beautiful E. & J. Gallo Winery Grounds. Picnic at the Pops! is a family-friendly outdoor concert that attracts thousands of music lovers from Modesto and the neighboring communities for an evening of music, dancing, and fun beneath the stars.  
This community event promises an unforgettable evening of soul-stirring music and timeless melodies that celebrates the life and legacy of the incomparable Queen of Soul, Aretha Franklin. The evening will feature the exceptional talents of your Modesto Symphony Orchestra led by Principal Pops Conductor, Ryan Murray, and the mesmerizing vocals of Broadway powerhouse Capathia Jenkins and Darryl J. Williams as they bring audiences on a journey through Aretha Franklin's greatest hits including "Respect," "(You Make Me Feel Like) A Natural Woman," "I Say a Little Prayer," and more. After a successful return in 2022, the Modesto Symphony Orchestra Association is confident this year's Picnic will be an even more delightful experience.  
"Picnic at the Pops! holds a special place in our hearts not only because it is the MSO's largest event of the season and our biggest annual fundraiser, but it is truly a beloved community tradition," says Caroline Nickel, President and CEO. "Last year, witnessing families and friends come together to experience pure joy as the stage lights up and the orchestra performs was so heartwarming, especially after returning from the COVID-19 pandemic." 
Picnic at the Pops! is a true community concert, created for the community by the community. The MSO is seeking volunteers to help make Picnic a success. Volunteer duties include the setting up and breakdown of the venue space, selling scrip tickets during the concert, and more. Visit ModestoSymphony.org/picnicvolunteer for more information and to sign up today. 
Attendees are encouraged to bring a blanket, pack a picnic, and enjoy all that the space has to offer.  Outside alcohol is prohibited; wine generously donated by the E. & J. Gallo Winery and an assortment of beverages are available for purchase, with all proceeds benefiting the MSO. For those not looking to pack their own picnic, patrons may pre-order meals from The Village Butcher, or purchase food on-site from The Sinaloense Food Truck and Yogurt Mill's Froyo Truck. Full details on food offerings will be available at our website at ModestoSymphony.org/picnic.  
Tickets for Picnic at the Pops! are on sale now, online, in-person, and over the phone. General Lawn tickets are $45 for Adults and $12 for Youth under the age of 17, and Reserved Lawn tickets are $75 for Adults and $20 for youth. Groups of 10 or more can receive a 20% discount on General Lawn Tickets. 
Tickets can be purchased by visiting the Gallo Center Ticket Office or calling 209.338.2100. Starting in August, tickets will also be on sale in-person at The Village Butcher in McHenry Village in Modesto, in Turlock at the Carnegie Arts Center, and the MSO Office in Modesto. For more information and to buy tickets online visit ModestoSymphony.org/picnic. 
MODESTO SYMPHONY ORCHESTRA: Picnic at the Pops! Aretha: A Tribute 
Saturday, September 9, 2023
Grounds Open at 5:00 pm
Concert Starts at 7:30 pm 
Ryan Murray, conductor
Capathia Jenkins, guest artist 
Darryl Jovan Williams, guest artist 
E. & J. Gallo Winery Grounds
600 Yosemite Blvd., Modesto 
TICKETS:
General Lawn Seating: Adults $45 / Youth $12
Reserved Lawn Seating: Adults $75 / Youth $20 
Groups of 10+ save 20% on General Lawn Adult tickets 
(Youth prices for ages 4 through 17, 3 & under are free) 
Tickets are available online through ModestoSymphony.org or through the Gallo Center for the Arts Ticket Office at(209) 338-2100. 
Gallo Center Ticket Office Hours: Monday through Friday 10:00am-6:00pm / Saturday 12:00pm-6:00pm  
Starting in August, tickets can also be purchased at The Village Butcher, Carnegie Arts Center, and the MSO Office. For full details on ticket offerings at the outlets, please visit our website at ModestoSymphony.org/Picnic. 
The Village Butcher: 1700 McHenry Ave., #65, Modesto 
Carnegie Arts Center: 250 N. Broadway Ave., Turlock 
MSO Office: 911 Thirteenth Street, Modesto 
ARTIST BIOS: 
American conductor Ryan Murray  has found steady acclaim as a compelling, dynamic and unflappable presence on the podium. Ryan is currently Principal Pops Conductor for the Modesto Symphony, Music Director of the Auburn Symphony, and Artistic Director of Music in the Mountains. An award-winning opera conductor, Ryan spent his early career working as an assistant conductor and répétiteur, and is currently the Music Director of Opera Modesto. He has served as an assistant conductor at the Sacramento Philharmonic & Opera, is the past Music Director of Fresno Grand Opera, and previously worked as a staff conductor for the Bay Area Summer Opera Theater Institute (BASOTI) and The Opera Academy of California in San Francisco. Effortlessly moving between genres, Ryan currently enjoys a wide range of performance genres & platforms, including traditional orchestral and operatic repertoire, pops performances, movies in concert, and a notable emphasis on contemporary American operatic works. 
Ryan was the winner of the Vienna Philharmonic's prestigious Ansbacher Fellowship for Young Conductors, and spent the summer in residence alongside the Vienna Philharmonic at the 2014 Salzburg Festival. Ryan was also awarded second place in the 2019 American Prize for Professional Orchestral Conducting for his work with the Modesto Symphony, and has garnered national recognition for his dynamic, compelling performances of contemporary opera as the winner of the 2017 American Prize in Opera Conducting for his highly lauded production of A Streetcar Named Desire. He was a 2016 semi-finalist for the Ernst Bacon Memorial Award for the Performance of American Music for his production of Jake Heggie's Dead Man Walking. 
A charismatic pops conductor, Ryan has worked with prominent artists such as Storm Large of Pink Martini, SuperDiamond and the phenomenal symphonic tribute to David Bowie. He was recently engaged to step-in at the last minute as assistant and cover conductor for Andrea Bocelli's Believe Tour with the Sacramento Philharmonic where he conducted rehearsals to acclaim. He has led some of the top vocalists from Broadway and beyond, including Ben Crawford (Broadway's The Phantom of the Opera), Ashley Brown (Broadway's Mary Poppins), and Alli Mauzey (Glinda from Wicked), as well as some of today's top young jazz vocalists including Tony DeSare and James Tormé. With an enthusiasm for film scores, Ryan enjoys the unique challenges of conducting movies in concert and was recently added the the Disney & ICM Approved Conductors list. Recent and upcoming performances include Disney's Pirates of the Caribbean: The Curse of the Black Pearl, Pixar Animation Studios' Pixar in Concert, Star Wars: A New Hope and Star Wars: The Empire Strikes Back. 
Ryan holds degrees, summa cum laude, in Bassoon Performance and Voice Performance from California State University, Sacramento and also holds a master's degree, with distinction, in Music Business from the Berklee College of Music where he studied with industry professionals to develop tools for success in the modern music industry, including new technology, policy, law and finance. Ryan has a strong commitment to education and currently serves as the Director of Symphony Orchestra & Opera at California State University, Sacramento, and as the conductor for the Sacramento Youth Symphony's premier orchestra. Driven by a lifelong passion for learning, Ryan has attended conducting masterclasses and seminars around the world. Ryan recently conducted the Romanian Chamber Orchestra in concert and was one of just eight conductors worldwide to be invited to the Musiikin aika Summer Festival Masterclass in Finland led by Susanna Mälkki. He has previously attended the Cabrillo Festival of Contemporary Music's Conductors Workshop; the contemporary music symposium led by Alan Gilbert featuring the New York Philharmonic; the Aurora Chamber Festival in Sweden, where he studied under Maestro Kurt Masur; the Lucerne Festival Academy's Conducting Masterclass in Switzerland; and the Eastman School of Music's Summer Conducting Institute. Widely praised for his tireless work ethic, natural poise, and impassioned, inspired performances, Ryan continues to connect deeply with orchestras and audiences alike, and has proven to be a formidable presence on the podium. 
The Brooklyn-born and raised singer/actor, Capathia Jenkins , premiered her new show, She's Got Soul, with the Houston Symphony in October 2022, with upcoming performances including Cleveland Orchestra, Seattle Symphony, Baltimore Symphony, Utah Symphony, Colorado Springs Philharmonic, Asheville Symphony, Arkansas Symphony, Tucson Symphony, Phoenix Symphony, Calgary Philharmonic, among others.  
Ms. Jenkins starred as 'Medda' in the hit Disney production of Newsies on Broadway. She made her Broadway debut in The Civil War, where she created the role of Harriet Jackson. She then starred in the Off-Broadway 2000 revival of Godspell, where she wowed audiences with her stirring rendition of 'Turn Back, O Man' which can still be heard on the original cast recording. She returned to Broadway in The Look of Love and was critically acclaimed for her performances of the Bacharach/David hits. Ms. Jenkins then created the roles of 'The Washing Machine' in Caroline, Or Change and 'Frieda May' in Martin Short-Fame Becomes Me where she sang 'Stop the Show' and brought the house down every night. In 2007 she went back to Off-Broadway and starred in (mis) Understanding Mammy-The Hattie McDaniel Story for which she was nominated for a Drama Desk Award. She was also seen in Nora Ephron's Love, Loss, and What I Wore.  
An active concert artist, Ms. Jenkins has appeared with numerous orchestras around the world including the Cleveland Orchestra, Houston Symphony, Pittsburgh Symphony (with Marvin Hamlisch), National Symphony, Cincinnati Pops (with John Morris Russell), Philly Pops, San Francisco Symphony, Seattle Symphony, Utah Symphony, Minnesota Orchestra, Toronto Symphony, San Diego Symphony, the Hong Kong Philharmonic, and many others. She was also a soloist with the Festival Cesky Krumlov in the Czech Republic multiple times. Capathia had the great honor of performing in the 'Broadway Ambassadors to Cuba' concert as part of the Festival De Teatro De La Habana. She will be returning to Carnegie Hall with the New York Pops for Get Happy: That Nelson Riddle Sound and also sang in a Tribute to Marvin Hamlisch at the Library of Congress.  
Her Television credits include 30 Rock, the Practice, Law & Order SVU, the Sopranos, Law & Order, as well as on her critically acclaimed CD Phenomenal Woman with Louis Rosen and her most recent single, 'I am Strong'. She can be seen in the film 'Musical Chairs' directed by Susan Seidelman. Ms. Jenkins was also seen in The Wiz in a live performance on NBC. She can be heard on the following film soundtracks: Nine, Chicago, Legally Blonde 2. www.capathiajenkins.com 
Darryl Jovan Williams is the Gold Medalist of the Americans Traditions Savannah Onstage International Soloist Competition. It was this competition that earned Williams a Gold Medal, a Ten Thousand Dollar Grand Prize, and an offer to sing for the Yachting Event for the 1996 Summer Olympics.  
Darryl is a celebrated artist around the world. Darryl was invited to tour Eastern Europe as the Choir Director and guest soloist by the late Mr. Michael Brenner, one of Germany's elite promoters, in the European Tour of Queen Esther Marrow and The Harlem Gospel Singers. His vocal prowess gained him rave reviews and won him the opportunity to perform for Pope (now Saint) John Paul II in Bologna, Italy.  
Mr. Williams has toured extensively in the Broadway hit Smokey Joe's Cafe with the legendary Gladys Knight and was a fixture at Caesars Palace in Las Vegas. Darryl has also created background vocals and sung background for artists such as Gladys Knight, Leslie Gore, Ann Nesby, Louis St. Louis, and Emmy Award winner Dave Pierce and most recently Michael Bublé. His performance and background vocals with Leslie Gore at Fienstein's was lauded as one of the Top Ten Cabaret Shows in 2009.  
A frequent soloist with symphony orchestras, Darryl's recent and upcoming engagements include performances with Houston Symphony, Seattle Symphony, Baltimore Symphony, Utah Symphony, Chicago Philharmonic, Louisville Orchestra, Allentown Symphony, Chautauqua Symphony, among others.  
Darryl has recently been the co-music arranger and vocal arranger for Sir Andrew Lloyd Webber. He was also the vocal arranger for the much-anticipated hit Jesus Christ Superstar Gospel, which won him rave reviews for his portrayal as Judas. Williams was recently a semi-finalist at the world-famous Apollo Theatre. He was most recently seen as the lead in Passing Strange and in a one man show written for him by Broadway legend Mr. Timothy Graphenreed. He is presently touring the world in his own show, The Mind of a Tenor, which has toured on Cruise ships and most recently South Africa. 
The Modesto Symphony Orchestra is a Resident Company of The Gallo Center for the Arts 
The DoubleTree Hotel is the official hotel of the MSO. 
Picnic at the Pops! is generously sponsored by 
Presenting Sponsors: E. & J. Gallo Winery & Family; Porges Family Foundation 
Headline Sponsor: Wille Electric Supply Company, Inc. 
Concert Sponsor: Garton Tractor 
ModestoView features contributors from our community on a regular basis. We enjoy and welcome these honorary ViewCrew members. If you would like to message them, email to info@modestoview.com