MODESTO SYMPHONY ORCHESTRA TO PRESENT  
PIANIST STEPHEN HOUGH VIRTUAL RECITAL JANUARY 14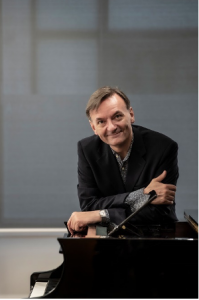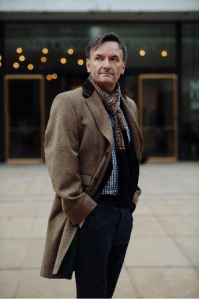 MODESTO, CA – The Modesto Symphony Orchestra (MSO) will present a virtual recital featuring renowned pianist Stephen Hough and hosted by Associate Conductor Ryan Murray on Thursday, January 14 at 7:00 pm. The virtual performance will feature a variety of works by Bach, Schumann, and Liszt.  
"We were lucky to have Stephen Hough perform with us last February before the start of the pandemic. He performed Rachmaninoff's Piano Concerto No. 2 with a special encore each night and just dazzled the audience—some of our patrons even came back for his second performance," said Caroline Nickel, President and CEO of the Modesto Symphony Orchestra. "Stephen is such a talented pianist, and we were thrilled to hear he had a recital that we could share with our community." 
This will be the MSO's sixth free virtual event in its MSO at Home series. This recital will be shown live on the MSO's YouTube channel. Recordings of this recital and other past MSO events will be available to watch at ModestoSymphony.org. All MSO virtual concerts are free of charge to help bring music to the community.  
MODESTO SYMPHONY ORCHESTRA, MSO at Home: Stephen Hough in Recital 
Hosted by Ryan Murray 
Thursday, January 14, 2021 at 7:00 pm on the Modesto Symphony's YouTube channel 
Stephen Hough, piano 
Ryan Murray, host 

PROGRAM 
Bach, arr. Busoni: Violin Partita No. 2, BWV 1004, V. Chaconne 
Schumann: Fantasie, Op. 17 
Liszt: Harmonies poétiques et religieuses, S. 173, VII. Funérailles 
Liszt: Mephisto Waltz No. 1, S. 514 
Streaming for free on the Modesto Symphony's YouTube channel 
A recording of the virtual recital will be available from the same link following the performance until February 1, 2021. 
This virtual performance is free to all and supported in part by Tom & Grace Van Groningen. 
ARTIST BIOS: 
Stephen Hough 
Combining a distinguished career as a pianist with those of composer and writer, Stephen Hough is regarded as a Renaissance man of his time. The first classical pianist to be awarded a MacArthur Fellowship and a Commander of the Order of the British Empire (CBE), his mastery of the instrument as well as an individual and inquisitive mind has earned him a multitude of prestigious awards and a longstanding international following. 
Since taking first prize at the 1983 Naumburg Competition in New York, Mr. Hough has performed with the world's major orchestras and given recitals at the most prestigious concert halls. His recent and upcoming North American engagements include performances with the New York and Los Angeles Philharmonics, Cleveland and Minnesota Orchestras, and the San Francisco, Montreal, St. Louis, Cincinnati, National, Pittsburgh, Atlanta, Dallas and Detroit symphonies among many others; recitals in New York at Carnegie Hall, Lincoln Center and the 92nd St. Y, the Kennedy Center and in Chicago, San Francisco, Los Angeles and Toronto; and festival appearances at Aspen, Blossom, the Hollywood Bowl, Mostly Mozart, Ravinia and Tanglewood. Internationally, he appears with orchestras and in recital in major music centers such as London, Paris, Amsterdam, Berlin, Helsinki, Zurich, Tokyo, Hong Kong, Beijing, Singapore, Shanghai, Sydney and Melbourne. 
On June 1, 2020, Stephen Hough re-opened London's Wigmore Hall, performing the UK's first live classical music concert in a major venue since the nationwide lockdown in March. Later in the summer he made his 29th appearance at the BBC Proms performing Beethoven's Piano Concerto No. 2 with the BBC Scottish Symphony Orchestra. During the 19/20 season, he also curated a five concert Brahms series at Wigmore Hall, performing with Renaud Capucon and Steven Isserlis among others. 
Mr. Hough's extensive discography of over 60 CDs has garnered international awards including the Diapason d'Or de l'Année, several Grammy nominations, and eight Gramophone Awards including Record of the Year and the Gold Disc. Recent releases include solo piano works by Debussy, the 'Dream Album', a compilation of Mr. Hough's favorite short works, and a live recording of Schumann and Dvořák's piano concertos with Andris Nelsons and the City of Birmingham Symphony Orchestra, all for Hyperion Records. In May 2020, Mr. Hough celebrated the 250th anniversary of Beethoven's birth with a three-disc recording cycle of the composer's five piano concertos, recorded with Hannu Lintu and the Finnish Radio Symphony Orchestra for Hyperion Records. Mr. Hough has performed the Beethoven piano concertos numerous times with the world's leading orchestras throughout his 30-year career, including in recent seasons with the New York Philharmonic and St. Louis Symphony. Mr. Hough's next recording, Vida, featuring his Vida Breve sonata and works by Chopin, Liszt, Busoni, and Bach/Gounod, is due to be released in January 2021. 
As a composer, Mr. Hough has written for orchestra, choir, chamber ensemble and solo piano. He has been commissioned by Wigmore Hall, Musée du Louvre, London's National Gallery, Westminster Abbey, Westminster Cathedral, the Genesis Foundation, Gilmore International Keyboard Festival, Indianapolis Symphony, the Walter W. Naumburg Foundation, the Cliburn Foundation and the Berlin Philharmonic Wind Quintet. His music is published by Josef Weinberger Ltd. 
A noted writer, Mr. Hough has written articles for the New York Times, The Guardian, The Times (UK), The Telegraph, Evening Standard, The Tablet, Gramophone, and BBC Magazine. From 2010 until 2016 he wrote more than six hundred articles on his blog for The Telegraph, which became one of the most popular and influential forums for cultural discussion. A major anthology of essays by Mr. Hough on music, cultural, lifestyle and spiritual subjects – titled Rough Ideas: Reflections on Music and More – was published by Faber & Faber (UK) in 2019 and by Farrar, Straus and Giroux (US) in 2020. This follows his first novel, The Final Retreat, published by Sylph Editions in March 2018. Also an avid painter, Mr. Hough gave his first exhibition of nearly twenty abstract acrylic paintings in London in 2012. 
Stephen Hough is an Honorary Member of the Royal Philharmonic Society, a Visiting Professor at the Royal Academy of Music, holds the International Chair of Piano Studies at the Royal Northern College of Music, and is on the faculty of The Juilliard School in New York. 
Ryan Murray's dynamic conducting, natural musicality and deeply held passion for the arts have allowed him to steadily build a robust career since his professional debut at the age of just 22. Ryan is currently the Associate Conductor for the Modesto Symphony Orchestra and Music Director for the Modesto Symphony Youth Orchestra; with whom he made his conducting debut at Carnegie Hall in 2014. Since his appointment in 2013, Ryan has consistently worked to improve the quality, skill, and prominence of the youth orchestra, and now leads an ensemble that features over 60 students from the greater Modesto area. He is also Music Director of Opera Modesto and Artistic Director and Conductor of Music in the Mountains. Ryan is the newly appointed Director of Orchestras and Opera at California State University, Sacramento, and also directs the orchestra at CSU Stanislaus. He previously served as Music Director for Fresno Grand Opera and as a staff conductor for the Bay Area Summer Opera Theater Institute (BASOTI) and The Opera Academy of California in San Francisco.  Effortlessly moving between genres, Ryan currently enjoys a wide range of performance genres & platforms, including traditional orchestral and operatic repertoire, pops performances, and a notable emphasis on contemporary American operatic works. 
Ryan has recently garnered national recognition for his dynamic, compelling performances of contemporary opera and is the current winner of the 2016/17 American Prize in Opera Conducting for his highly lauded production of A Streetcar Named Desire. He was a 2016 semi-finalist for the Ernst Bacon Memorial Award for the Performance of American Music and received honorary mention for the American Prize in Youth Orchestra Conducting. Ryan is also a past winner of the Vienna Philharmonic's prestigious Ansbacher Fellowship for Young Conductors and spent the summer in residence alongside the Vienna Philharmonic at the 2014 Salzburg Festival. 
Driven by a lifelong passion for learning, Ryan has attended masterclasses and seminars around the world including the Cabrillo Festival of Contemporary Music's Conductors Workshop, the Musikin Aika Summer Festival Masterclass in Finland, the Aurora Chamber Festival in Sweden, the Lucerne Festival Academy's Conducting Masterclass in Switzerland, and the Eastman School of Music's Summer Conducting Institute featuring the Rochester Philharmonic. Ryan holds degrees, summa cum laude, in Bassoon Performance and Voice Performance from California State University, Sacramento. Widely praised for his tireless work ethic, natural poise, and impassioned, inspired performances, Ryan continues to connect deeply with orchestras and audiences alike and has proven to be a formidable presence on the podium. 
### 
The Modesto Symphony Orchestra is a resident company of the Gallo Center for the Arts 
The Modesto Symphony Orchestra's 90th season is generously supported by 
& J. Gallo Winery 
John & June Rogers 
Porges Family Foundation 
Boyett Petroleum 
Beard Land and Investment Co. 
Atticus, LLP 
ModestoView features contributors from our community on a regular basis. We enjoy and welcome these honorary ViewCrew members. If you would like to message them, email to info@modestoview.com