MAMAView: Music in the Plaza Returns in May
By Middagh Goodwin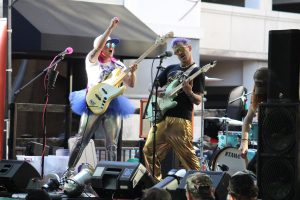 A fan favorite and multiple Modesto Award-winning event, Music in the Plaza returns to the 10th Street Plaza unofficially on Thursday, May the Fourth, on Star Wars Day with Horizon Point. Officially Music in the Plaza kicks off the second Friday of May with the incredible David Perez Band. We are always thrilled when David Perez and the company agree to do an event with us; they will surely get you all dancing. If you have yet to see them live, this is your chance.  We are happy to have Valley Heat coming out to the Plaza for the first time, playing blues, rock, and alternative favorites for you to sing along to and dance to.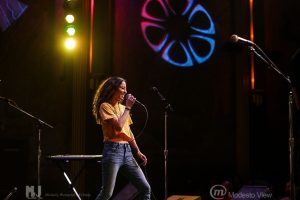 June kicks off with Graffiti Summer, and Third Party will play the hits of the 50s-80s at the Legends of the Cruise Celebration and Car Show on June 7th. Celebrate this year's Legends, and enjoy some fantastic music with a backdrop of classic cars in Downtown Modesto. On June 9th, it is a Graffiti Cruise tradition with Gary Gervase & the Kickstart Blues Band playing some good rockin' blues and rock and roll hits. On the 16th, the Good Ones join the Summer lineup for the first time. This female-fronted powerhouse plays a mix of hits from the 90s and beyond. The powerhouse trio Triple D is a crowd favorite and is ready to return to the Plaza on June 23rd.

Some other bands scheduled for Music in the Plaza this season are Wet Banditos, the Vibes, David Dow & Friends, Orquestra Dharma, and Autumn's Garden. So reserve a spot on the patio at Ralston's Goat, Fuzio, or T-Cups, or bring your lawn chairs and enjoy one of the best free, family-friendly events in the 209.

If you would like to be a sponsor, don't hesitate to contact info@modestoview.com for more information on this and other community-sponsored events. 
Middagh Goodwin LIVES Music. He has been booking and promoting Music, Art, and Comedy in the Central Valley for years. He ran the award-winning Plea for Peace Center in Stockton for 5 Years and has booked bands from A-Z. In addition, he is the managing editor of ModestoView and writes the MAMAView and GeekView. Middagh works with the Modesto Area Music Association and books Music in the Plaza. In addition, he owns and operates Graffiti-Con, where cars and pop culture intersects. More recently, Middagh has been working with the Graffiti USA Classic Car Museum, helping to create unique events that help raise funds and awareness of the museum and its mission. On top of that, you can tune into one of two shows that Middagh Goodwin hosts on KCBP 95.5 FM; This is SKA and MAMA Radio.