Pony Car Stamps and Car Show
By Carly Russell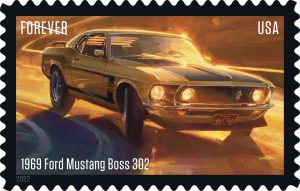 On Friday, September 16th the US postal service is holding a special event in honor of the Pony Car Commemorative Stamp release at the Graffiti USA Classic Car Museum in Modesto, CA.  Open to the general public from 10 AM-4 PM, attendees of this community event will have the opportunity to purchase limited edition USPS Pony Car Forever Stamp commemorative merchandise and stamps. 
Over the last six decades, fast and fun pony cars have become a uniquely American obsession. On August 25, 2022, the US postal service issued 5 limited edition Forever stamps celebrating iconic performance coupes and convertibles that were built by US automakers to appeal to a younger generation of drivers who craved sporty, affordable cars that looked and felt different from what was in their parents' garages. These stamps celebrate five iconic U.S. automobiles—the 1969 Ford Mustang Boss 302, the 1970 Dodge Challenger R/T, the 1969 Chevrolet Camaro Z/28, the 1967 Mercury Cougar XR-7 GT, and the 1969 AMC Javelin SST.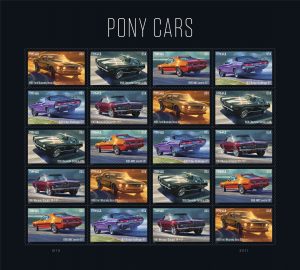 Free to enter and view, the Graffiti USA Museum will showcase a 1969 Chevrolet Camaro Z/28, a 1970 Dodge Challenger R/T, and a 1969 Ford Mustang Boss 302 among other Pony Cars during this one-day-only event. 
Stamp collectors, car enthusiasts, and community members interested in learning about US postal service career opportunities are strongly encouraged to attend.  The US postal service is actively hiring for full-time, part-time and seasonal employees. USPS representatives will be on-site to answer questions and assist job-seekers.