Sunday, May 19, Modesto Porchfest returns. Porchfest started in Modesto just two years ago in July 2017 with 30 locations and 45 acts if you do not count the gaggle of VMI bands playing the same day at the Gallo Center for the Arts. Now in its third year, it has grown to 45 porches and an after party at Ralston's Goat with over 100 acts performing once again not counting the numerous VMI bands at the Gallo Center. The event has won two Modesto Area Music Awards(for Small and Large Events) and has become one of the most anticipated community concerts. Make plans to ride your bike and catch some of the area's best performers in this unique setting.
ModestoView/MAMA is hosting a porch at 913 Edgebrook with performances by Triple D, Patty Castillo Davis, Sticks & Stones, Cloak & Swagger and Third Party. Bangarang will be performing a few houses down at 901 Edgebrook.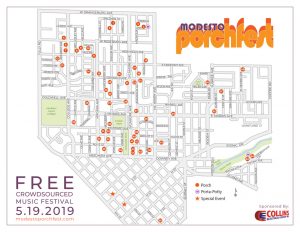 Middagh Goodwin LIVES Music. He has been booking and promoting Music, Art, and Comedy in the Central Valley for years. He ran the award-winning Plea for Peace Center in Stockton for 5 Years and has booked bands from A-Z. In addition, he is the managing editor of ModestoView and writes the MAMAView and GeekView. Middagh works with the Modesto Area Music Association and books Music in the Plaza. In addition, he owns and operates Graffiti-Con, where cars and pop culture intersects. More recently, Middagh has been working with the Graffiti USA Classic Car Museum, helping to create unique events that help raise funds and awareness of the museum and its mission. On top of that, you can tune into one of two shows that Middagh Goodwin hosts on KCBP 95.5 FM; This is SKA and MAMA Radio.