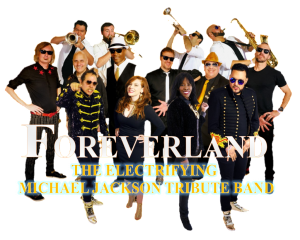 Foreverland, a 14 piece Michael Jackson tribute band to perform inat Lakewood Memorial Park on Saturday, September 29, as part of the fundraising efforts for Red Tie Arts.
 Modesto, CA.  Red Tie Arts, after a tremendously successful 3rd Summer Concert series held at the Lucca Winery in Ripon, is thrilled to announce the return of our patron's most requested band, Foreverland.  This time, to play up MJ's Thriller recording, we are holding the concert at Lakewood Memorial Park.  Lakewood Memorial Park has an actual amphitheatre that will hold about 500 people.  Cemetery events are growing in popularity.  Hollywood Forever hosts movie nights and literally thousands attend.
RTA's summer series has become so popular that we have to turn away probably as many people as we can accommodate. Our evenings include catered dining, wine bar(s) pre-show music with local musicians, dancing, and our popular "Emergency Chocolate" service/bar.  We are also working on, for the evening, a Choreographed Thriller dance contest. (Tutorial on our website) Doors open at 6:00 and the show will begin at 7:30 and run approximately two hours.
Foreverland is a 14 piece Michael Jackson tribute band from the Bay Area. They are held in the highest regard as a steadily working, highly talented group.  Foreverland has been performing for nearly 10 years and has racked up hundreds of concerts at some of the best venues.  Their focus is not on looking like or dancing like MJ, but they do have some cool moves, especially the horn section, but recreating the music and all its power.  See more at www.foreverland.com
A quote from one fan that kind of nails it:
"Dynamite show by a tight ensemble. Liked that it wasn't a MJ impersonation; rather just let his music speak for itself. You let the Spirit of Joy in his songs shine thru. Thanks!"
Red Tie Arts is an infant in the non-profit world, (almost 3 years) whose mission is to help underprivileged, talented, children realize their artistic goals and dreams.   We began working with the Sylvan School District and have now added Stanislaus County Schools, Modesto City Schools and the Ripon School District.  Our concentration at the moment is music but we will soon reach out to theater, dance, visual art, and eventually literature.  We are an all-volunteer organization and all proceeds are earmarked toward the Red Tie Kids Program funds.   More on that at www.RedTieArts.org
Comments
comments
Middagh Goodwin LIVES Music. He has been booking and promoting Music, Art and Comedy for years in the Central Valley. He ran the award winning Plea for Peace Center in Stockton for 5 Years and has booked bands from A-Z. Middagh is beginning 2016 with a new position at the Gallo Center for the Arts and celebrating Beat Happy! Music's 30th Anniversary. Read the MAMAView every month and a the Needle Drop 52 Records 52 Weeks.