Rockabilly View: J St. Rumble is About to Happen!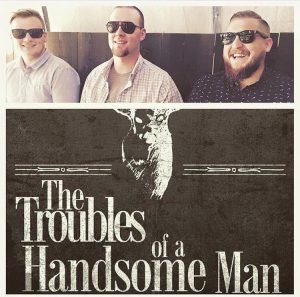 One of the newest Rockabilly bands on the block, formed in 2016, is The Troubles of a Handsome Man. Comprised of Cole Rambo on guitar/vocals, Kyle Westall on bass/vocals and Clay Ruddy on fiddle. Check out The Troubles of a Handsome Man at the J Street Rumble, April 22nd at 7pm at Modspot, 1220 J St., Modesto. (Also playing is the Voodoo Killers and The Gamblers Mark. Hosted by Greasers Social Club Central Valley and Trevino's Barber Shop.)
MV:  How did you fellas meet? What was your inspiration to start a band together?
Cole: Kyle and I have been close friends for a while and had played music off and on over the years and I think we finally got to the point that we wanted to get serious with it and make a record. I had a few acoustic songs that I'd been working on that I brought to the table, Kyle put down his guitar and picked up a bass and that was that. I met Clay when he joined my hockey team and once I found out he played violin I had to have him.
MV: What are your long-term goals as far as playing music together?
All: This is our creative outlet, all three of us would be playing and writing music one way or another without each other, but the fact that we're such good friends adds to the experience and definitely helps us make the best music we can, so as long as we can stand each other we'll be playing music together, whether that's in a bar, on the street or wherever.
MV: What do you think about driving alone in the car?
Cole: 90% of our songs originated on long days in the car at work, then I bring them in and the boys put their stink on it.
Kyle: It depends what I'm doing in the car. If it's a podcast I'm listening to it's usually something the people on it are talking about and my mind will wonder off of that. If it's music, I usually am thinking about if I'm singing along with the right words or not.
Clay: I'm super safe, so when I drive I like to clear my mind and focus on safety.
MV:  Who are your musical influences?
Cole: David Bowie, Bright Eyes & The Alkaline Trio. There's a lot more to add to this list but I probably pull more inspiration from those three than any other.
Kyle: As far as influences go I have too many. I find that more songs influence me than bands or people. There are people I definitely look up to though. Keith Moon, Roger Waters, David Gilmour, Jimmy Page. A lot of old farts. Going back as far as Chuck Berry.
Clay: John Mayer is mainly known for his sappy love songs, but his killer guitar solos are very bluesy and stand out to me. Another influence is John Frusciante, the lead guitar for Red Hot Chili Peppers. His guitar parts are unique and really stand out in songs.
MV: You're a new addition to the crayon box. What color would you be and why?
Cole: Flesh color, so I blend in and nobody talks to me.
Kyle: Green……I'm a huge fan of horticulture.
Clay: I would be the color orange. Not a lot of bands have an orange member. I play instruments that aren't too common in bands, and orange isn't the most typical of colors.
Comments
comments