The Hooten Hallers Conquering Modesto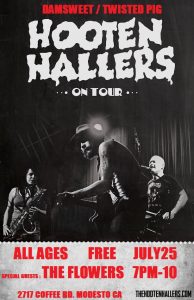 In 2007, Modesto was introduced to a firestorm of two men taking the shallow cove at Minnie's on McHenry We were unaware that these two men were going to be such a powerhouse; like none other. The promoter for the show didn't have a place for these two gentle dogs to lie their traveling heads. After witnessing their musical talents and their gracious swagger, I did not hesitate to host them at our adobe. After the show, we caravanned down the road and unloaded the weight of the night by playing drinking games and getting to know each other a lot more. Andy Rehm on drums and vocals, John Randall on vocals and guitar, are two of the kindest humans I have encountered in the musical world. Even the early morning, a brisk one at that, the boys did a little morning acapella, with knee slapping beats, as they went back on the road in the "Gospel Machine". I must admit I was saddened for their departure. Hoping they return would come quickly. Following their travels back home I could see all the other little seedy joints mesmerized by their talents as well.
The next journey out west from their home town, Columbia Missouri, they brought a traveling companion Jack Grelle singer/songwriter. Again, we another night of drunken shenanigans. So much to the point where Jack passed out on the swing in the middle of  "Circle of Death". It is like "Kings Cup" just deadlier. Do you remember "Jax on H"? Mitchell Maisette was nice enough to host the show there. Great venue and amazing staff. Sorry it had to go. Actually, that is where I met Christina Davis, Mitchell's niece. This time around we had the pleasure of hosting for around 10 days; traveling back and forth to the mountains and the bay enjoying every moment of their explosive talents. Again, it was another sad day to see them go and travel that 99 hwy to their next gig.
This brings us now to a hard-driving three piece adding Paul Weber "The Bad Man" on his sizzling harmonica and badass tube talents. It a great pleasure to meet such a gifted musician, playing the harmonica like melting butter, so smooth. And to hold a tuba and prance around the stage is truly an amazing sight. After a while on tour with John and Andy, Paul decided to stay back from touring and farm with his lady in Missouri. I still keep in contact and he plays locally in the Columbia are. If you're ever traveling out west Columbia Missouri is a place to visit. But before Paul decided to stay home and farm, the Hooten Hallers added another piece to the mix: Miss Kellie Everett. Now, if you ever get excited about a female artist, she is one to be very excited about. Kellie joined the Hooten Hallers with a complete style that added to the amazing trio already formed. Kellie plays the bass and the baritone sax, which is just as big as she is. But, boy does she play this instrument like it is nothing. I am sure traveling as the only women in the band becomes hard at times. For Kellie, I believe this is a family affair and her big brothers are there to watch over her traveling the open roads from East to West. Even traveling through Europe has to have some extreme excitement. Kellie also has her own band called "Southwest Watson Sweethearts". This is a duo with her long-time mate Ryan Koening of Pokey La Farge.
I hope you become a fan of Andy, John and Kellie which makes The Hooten Hallers fabulous. They will be gracing Modesto once again July 25th at the Twisted Pig on Coffee Road. Show starts at 7 pm til 10pm. All ages and FREE!!!
Comments
comments