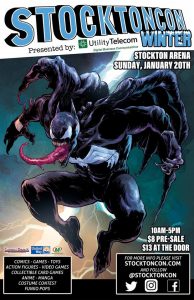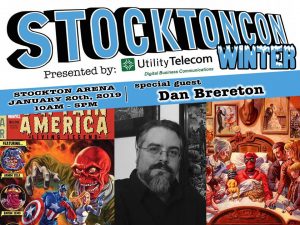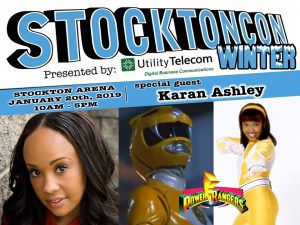 StocktonCon Winter is Here
StocktonCon Winter, presented by Utility Telecom, debuts on Sunday January 20, 2019 at Stockton Arena! This one-day event marks the expansion of StocktonCon Events, as StocktonCon will be held on August 3-4, 2019. StocktonCon Winter will take place at Stockton Arena from 10am-5pm on Sunday, January 20th.
Tickets for StocktonCon Winter are available now at the Stockton Arena Box Office and at http://ticketmaster.com at a special pre-sale price of $8. Tickets are $13 at the door. Tickets are also available at over 20 ticket sales locations around Northern California.
Overwhelming fan support helped StocktonCon move from a one-day event at the University of the Pacific in 2012, to one of the top pop culture events on the West Coast, bringing thousands to Stockton Arena each year.
A large array of artists, exhibitors and special guests will once again be in attendance at StocktonCon. More than 100 exhibitors and artists will be a part of the fun – with fans in attendance able to find lost treasures and art commissions. The Special Guest List is highlighted by comic creators like Dan Brereton (Batman, Nocturnals), Ramon Villalobos (Nighthawk, Border Town), Justin Greenwood (The Fuse, The Last Siege) and Brad Simpson (Deadpool, Kong of Skull Island). Greenwood, Villalobos and Simpson collaborated on the poster image.  Other guests include David J Fielding(Power Rangers), Karan Ashley(Power Rangers), Tommy Dreamer(ECW/WWE) and voice actress Julie Dolan(Princess Leia Star Wars Rebels, Lego Star Wars).
The StocktonCon Winter Costume Contest will take place at 5pm in Stockton Arena Panel Rooms. War Torn Front will provide Collectible Card Gaming in the Gaming Room near the main entrance to Stockton Arena.
A portion of the proceeds from StocktonCon goes directly to the United Way and the Child Abuse Prevention Council of San Joaquin.
Facebook: http://facebook.com/stocktoncon
Twitter/Instagram: @StocktonCon
Middagh Goodwin LIVES Music. He has been booking and promoting Music, Art, and Comedy in the Central Valley for years. He ran the award-winning Plea for Peace Center in Stockton for 5 Years and has booked bands from A-Z. In addition, he is the managing editor of ModestoView and writes the MAMAView and GeekView. Middagh works with the Modesto Area Music Association and books Music in the Plaza. In addition, he owns and operates Graffiti-Con, where cars and pop culture intersects. More recently, Middagh has been working with the Graffiti USA Classic Car Museum, helping to create unique events that help raise funds and awareness of the museum and its mission. On top of that, you can tune into one of two shows that Middagh Goodwin hosts on KCBP 95.5 FM; This is SKA and MAMA Radio.