Strut Performing Arts
On Site Winter Session 2020
Classes begin Monday, November 2nd!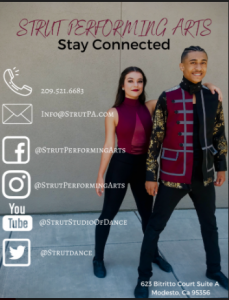 DRUM ROLL PLEASE …
We are opening for our Winter  2020 Session ON SITE!! After careful consideration and guidance from local officials, SPA developed a weekly schedule that we feel would best suit our students and will allow our dancers of all ages / levels, to maintain their physical and mental well-being while practicing safety protocols –  after all, this is what is most important! 

With that being said, we will be allowing 10% capacity (approx.) within each classroom and giving priority to those students who were previously enrolled in Zoom Classes . Depending upon current State / County guidelines, which may change periodically given our COVID -19 numbers –  class sizes will be limited and on a "first come, first serve" basis. We highly recommend emailing the studio as soon as possible to ensure you / your student has a spot in class! Our classes will fill up immediately! 

What should I include in the email:
Full name of student (and parent) interested in classes 

Age of student

What genres are you interested in?

what past dance experience (if any) does you / your student have? 

Contact phone # / email address for reference 
Upon enrolling for the Winter Session, the following documents will need to be completed / on file at the studio (please see attached): 
Medical Release & Waiver (An entire Enrollment packet will need to be completed when returning for Spring 2021 in January) 

Covid – 19 Waiver
Please DO NOT be discouraged – WE ARE HERE TO HELP YOU THROUGH THIS TIME OF 
UNCERTAINTY
!!
Please see below, as we have outlined some crucial information surrounding our plan moving forward:
Class Offerings: 
WINTER 2020 SESSION > WEEKLY CLASSES:

We will have a consistent class schedule for the month of  November / December > starting Monday November 2nd, 2020. This will continue until the SPRING 2021 Session commences! We will reevaluate our weekly class schedule during the Winter Break, and make the necessary adjustments and send out to all of our studio families thereafter 

Please see the Winter 2020 Weekly Class Schedule

TUITION / PAYMENTS:

One Class per week                   $65.00
Two Classes per week               $100.00
Three Classes per week            $135.00
Four Classes per week              $170.00
Five Classes per week               $205.00
Drop-in Fee (per class fee):      $20.00
Enrollment Fee: Each dancer is required to pay an Enrollment Fee of $35.00 per session (2 sessions – Jan/Aug). Returning students $25.00 per session (students who completed prior session- this would be students who were enrolled and currently taking classes)
MONTHLY TUITION / DROP-IN FEE CAN BE MADE BY PHONE CALL TO SPA (209.521.6683) OR VENMO @STRUTPERFORMINGARTS
**SPA does NOT Prorate Class Tuition; NO REFUNDS
ALL classes MUST be paid for in advance prior to participating 
Private Lessons:
WE ARE CURRENTLY OFFERING PRIVATE LESSONS TO:
1.) SINGLE DANCERS
2.) DANCERS WITHIN THE SAME HOUSEHOLD
* Due to our new weekly schedule starting in November / December, floor time and our Instructor's availability, time slots for privates are going fast. Be sure to contact us ASAP if you are interested in setting up Private Lessons.

Virtual Master Classes
We are currently offering Virtual Master Classes taught by esteemed Choreographers / Dancers throughout the United States (Professional / Collegiate / All Star / Praise, Etc.)

Elite dancers throughout the United States all in one place… This is an incredible and rare opportunity you do not want to miss!
Check out our Social Media Platforms for more information! 
Home – School Programs:
Interested in daytime classes? SPA is more than willing to offer daytime classes to assist in your daily activity and physical education. We will need a minimum number of students for each class to move forward so please email us with any interest!  Email: info@strutpa.com
Home School students are also welcome to take any class on our regular weekly schedule (afternoons / evenings) 

Affiliated Homeschool Programs:

Connecting Waters
Hart Ransom
Gateway
Dance Wear & Accessory Sale:
We have an abundance of beautiful items that have been heavily discounted; Leotards / Tights / Shoes / Bags /Skirts / Knit Wear 

Stop in the studio to check everything out!! 
Stay Connected:
If you do not already follow our Social Media platforms; we encourage you to do so immediately as we have and will be keeping everyone abreast of our plans moving forward / current events / important reminders! This is a great way to… STAY CONNECTED!!

FACEBOOK / INSTAGRAM / YOUTUBE
 
Strut Performing Arts cares deeply for our students and families and will put their health and safety above all. We have been diligently monitoring the Covid-19 virus and understand it's severity, devastating effects on all of our lives. We are very optimistic about the coming months and look forward to being able to create a "normal" environment for our SPA Families!  

Moving forward, we must begin to formulate what Strut Performing Arts new "normal" will look like. We have been in touch with the proper representatives within Stanislaus County / The City of Modesto to ensure we are operating with optimal safety measures, as well as putting our student's health in the forefront of our decision making. We are unequivocally prepared to facilitate a healthy, safe, and efficient environment for our dance families. 
 
Thank you to all SPA families!! We love and appreciate every single one of you and pray for everyone's health during this difficult time.  Let us take advantage of this time to lean on our faith, spend time with our loved ones and put our freedoms in perspective. We will get through this together and be stronger for it!!
 
Should you have questions, please email directly; we will be checking emails/ voicemails daily. We are here to help in any way possible!
E: info@Strutpa.com
 
Sincerely,
Heather & Hollie Bettencourt… and the entire SPA Faculty! 
ModestoView features contributors from our community on a regular basis. We enjoy and welcome these honorary ViewCrew members. If you would like to message them, email to info@modestoview.com