Summer Outreach for Kids Who Love Classics!
By Carly Russell
Are you looking for a fun and educational way to entertain your kids this summer? Look no further than the Graffiti USA Classic Car Museum! Our new summer outreach program is perfect for kids who love cars, adventure, art, history, and more!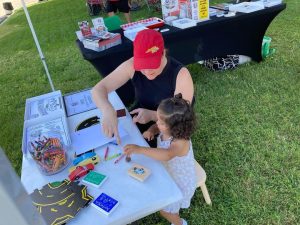 Crafts
Starting in May, our community outreach booth will feature fun, kid-friendly activities, including a DIY car-customizing station! Kids will receive their very own car to decorate and examples of popular paint techniques to draw inspiration from. We provide the materials, and they provide the imagination!
Join us at the Modesto Certified Farmers Market on Thursday, May 18th, from 8 AM-1 PM.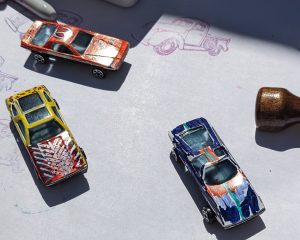 Scavenger Hunt
Our classic car scavenger hunt will have your kids exploring area car show events and searching for clues! Attend the Graffiti Classic, Legends of the Cruise, American Graffiti Festival car shows, and more to participate! Use the QR code below for the full list of participating events. Kids can pick up their Scavenger Hunt activity page at the Graffiti USA Classic Car Museum community outreach booth. Search and find all ten items on the list and return to our booth to claim a prize!
Passport
Kids 12 and under can get their Graffiti Summer Passport stamped at three or more participating events for a free ice-cold A&W root beer float and other fantastic prizes. The more stamps they collect, the better the prize!
Dress-Up Station
Let your kids dress up like they're in the 1950s, '60s, or '70s with our dress-up station. We provide poodle skirts, tie-dye, and other accessories. Make it a Kodak moment for the chance to be featured on the Rear View page of the Modesto View!
Coloring and Activity Pages
We've designed some new coloring pages, word searches, and crossword puzzles just in time for Graffiti Summer! Learn all about cars, radio, records, and more!
 We're excited to offer these fun and educational activities for kids. Our summer outreach program is perfect for families looking for a unique and memorable way to spend their summer vacation and connect with our local culture and history. 
Sign up for our calendar of events and let your kids experience the joy and wonder of classic cars!
Would you like our Graffiti USA Classic Car Museum booth at your next car show or community event? We love attending community festivals, markets, and car shows in Stanislaus County and the surrounding areas. Please reach out to us at contact@graffitiusamuseum.com for scheduling!