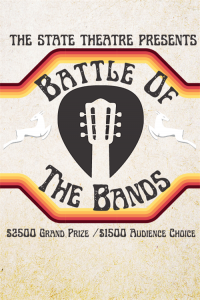 A Battle of the Bands will be taking place on March 13 at the State Theatre with a $2500 Grand prize and $1500 Fan Favorite award. The event intends to showcase 8 of the areas brightest playing 2 songs each. To participate you will need to record a video of you performing an original song and upload it to YouTube for judges to narrow down their picks and later for fans to vote by liking the video. 3 spots will be picked by a panel of experts and 5 spots will be determined by fan votes. The Battle of the Bands is open to full bands and solo performers of any age. There is a $15 non-refundable entry fee. The deadline to apply is January 15th at 11:59 pm.
$2500 Grand Prize will be awarded based on a panel of judges
$1500 Audience Choice Award will be awarded based on in-person voting at the live show.
For more information and full details https://thestate.org/battle-of-the-bands/
Middagh Goodwin LIVES Music. He has been booking and promoting Music, Art and Comedy for years in the Central Valley. He ran the award winning Plea for Peace Center in Stockton for 5 Years and has booked bands from A-Z. Middagh is beginning 2016 with a new position at the Gallo Center for the Arts and celebrating Beat Happy! Music's 30th Anniversary. Read the MAMAView every month and a the Needle Drop 52 Records 52 Weeks.