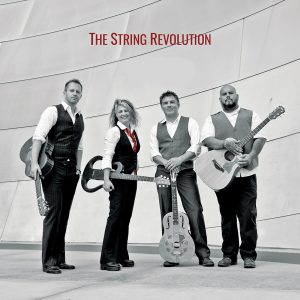 UnpluggedView: You Say You Want A Revolution
by Aaron Rowan
"Music is the voice that tells us that the human race is greater than it knows." – Napoleon Bonaparte.
Seven years this month. Hundreds of distinct musical acts showcased in intimate spaces from small recital rooms to art galleries to black-box theatres. Exotic instruments and languages quite possibly never heard in a live concert setting elsewhere in town. Modesto Unplugged has evolved and refined over the years but has never outgrown the qualities that make us unique among the downtown music circuit. While many local venues rely heavily on cover/tribute acts, or the same lineup of performers month after month, our primary mission is to bring new and fresh musical flavors to the table. Along the journey I've enjoyed opportunities to shape the programming of my favorite regular series and festivals both here and in the Bay Area; connect talent with venues on both sides of the Atlantic; run around the country on multiple mini-tours with fantastic songbirds; and enrich myself by attending countless events curated by friends and colleagues throughout the area.
My favorite fellow local presenters are Opera Modesto, Sunday Afternoons At CBS, and Red Tie Arts. Together, the four of us represent the leading edge of what I call the Resonant Renaissance. We've laid the foundation, now it's up to you to do your part. Go beyond liking the idea of these unique cultural offerings, and embrace the reality. Seek them out in the synagogue, at the Mistlin Gallery, in the McHenry Museum, in the other out-of-the-way places where the magic happens. Greater community engagement is the key to elevating our blossoming Renaissance to a higher level.
Modesto Unplugged's big showcase this month is a Mother's Day matinee concert which will introduce something different yet again to our programming. The String Revolution is a quartet of guitar virtuosos sharing a passion for many different musical styles, guitar techniques, and distinctive sounds. One of their players, Janet Robin, was named a "Top 50 Acoustic Guitarist" by Guitar Player Magazine in 2017 and has served as a touring guitarist with Lindsey Buckingham, Meredith Brooks, Air Supply and others. The String Revolution will appear Sunday 5/12 at 3 PM, at Moon & Sixpence Music And Art House, 500 9th St. between E & F. Admission is $20 and we're offering a 2-for-1 deal if you bring your mama along for this captivating afternoon. Reserve your seats at
modestounplugged@yahoo.com
or 209-543-5306. Intimate performances. Infinite Playlist. MODESTO UNPLUGGED.
www.modestounplugged.com
.