by Brandilyn Brown
BrewView attended the open house for Nine3One, the newest room of Modesto's premier event venue, The Century. It's an all-inclusive venue on 10th Street (heart of downtown), for weddings, reunions, graduation parties, meetings, you-name-it, they've got you covered.
You need tables, cloths, flowers AND food? Done.
You need bartenders, a DJ AND a photo booth? Done.
You have another need? Decor, security, or a coordinator? Bring it on.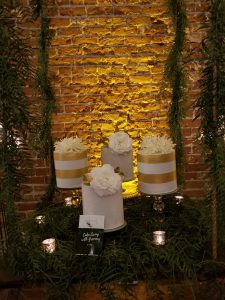 What about a cake hanging from the ceiling by beautiful (and strong) vines? You got it.
The Century wants to be challenged because they know they can deliver. The Century won the Wedding Wire Couple's Choice Award for 2017, and they SUPER deserve it.
The theme of the evening was "Rose Gold Romance". They definitely had me feeling elegant just walking around this place.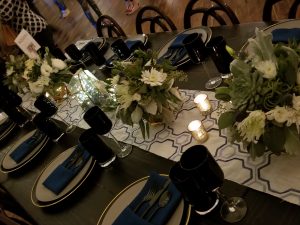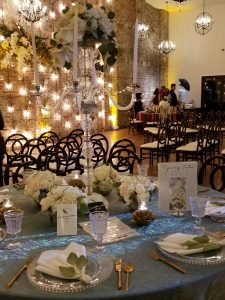 Would the cocktail selection make me feel elegant too? Off to the Mobile Mixologist we went. The two drinks for the night were a Cardamom Rose Cocktail (which I choose), and a Apple Cinnamon Moscow Mule that Mr. Mitchell greatly enjoyed (so much he had a second one!). David and Candace made some great cocktails!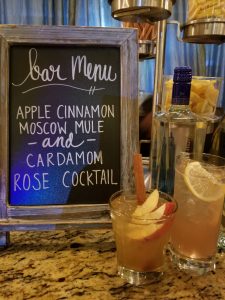 With BrewView satisfied with the bar offerings, we sampled some of their best dishes: a super greens and quinoa salad and a tropic colada smoothie. Our last stop was at the photo booth, provided by Platinum Photo Booth.
I've been to several dozen weddings, and I have to say the Century delivers some of the most beautifully brilliant themes I've seen. Of course they can decorate several different themes, and even create a new one for your one-of-a-kind day, so call them up for a tour today and see this gorgeous venue for yourself. Their brand new room Nine3One is ready for your event!
The Century
927 10th Street
Modesto, CA 95354
209-451-2292
www.downtowncentury.com
Comments
comments
Bring on the rain, and a bottle of Wonky & Wry's Honey Braggot Ale. Loves to roast marshmallows over a fire. Enjoys the mix of cigars and whiskey.