Chef View
By the ViewCrew
Hot dogs, get your hot dogs here!
As we wrap ourselves in baseball season, one thing is for sure; you can't go to a baseball game without getting a hot dog. In many cases, I anticipate the dogs more than the game. Hot Dogs are one of the all-time hall of fame best guilty culinary pleasures. There are dogs that get you through in a pinch from Weinershnitzel and there are some serious gourmet dogs. Some of the best dogs in the world can be found at a street cart, wrapped in bacon. The ViewCrew hit the hot dog trail and found some of our favorite wiener treats. Please comment on this article on ModestoView.com and add your own favorite dogs. Enjoy this treat and Play Ball!
A & W
This is as close to the original Modesto drive-in culture as you can get.
Pull up in your classic car, push the button on the menu kiosk and soon, a car hop will appear at your car to take your order. This is the easy part, you order "1 Coney Dog and 1 Large Root Beer, for here" You can get fries or curds too, but the dog and the root beer is the mainstay. This is a tasty all beef wiener, smothered in chili, onions and covered with cheese. This is one of my all time fave dogs. A foot long would even be better. I sat and enjoyed my dog in the car, remembering all those that sat there during the days of the cruise and listened to Beatles on the radio. If only KFIV 1360 still played oldies, but now you have the Vine 92.3 for oldies locally. I suggest you make it an experience
1404 G St, Modesto 95354
209-522-7700
10 am – 8 pm M- S Sun 11-8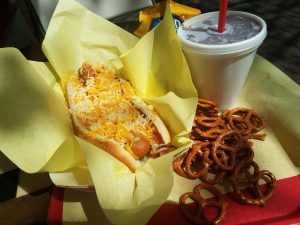 Brandilyn Brown
My favorite hot dog is the Western Bacon Cheese Footer from Footers. It has all the best toppings for a dog: BBQ sauce, onions, tomatoes, bacon, with both jack and cheddar cheese. All their dogs are steamed, so they are incredible juicy! I also like to add avocado on occasion. You can pick your side from pretzels, chips, or fruit, and along with traditional soda, they have a plethora of Italian soda flavors to choose from. There is plenty of indoor and outdoor seating at this adorable little  hot dog bar.
Footers
425 E Main St
Turlock, CA 95380
209-667-8383
Comments
comments
Chris Murphy is the President and CEO of Sierra Pacific Warehouse Group and Publisher and Founder of ModestoView Inc. Chris worked globally in the cycling industry returning to Modesto in 1996. He is also the founder of the Modesto Historic Graffiti Cruise Route, Legends of the Cruise Walk of Fame, Modesto Rockin' Holiday, the Modesto Music History Organization and co-founder of the Modesto Area Music Association. Chris is married to his artist wife Rebecca since 1985 and has two daughters Madison and Abigail, both graduating from Modesto High and UC Berkeley. He is lead singer and guitarist for his band, Third Party that donates their performances to non-profits.