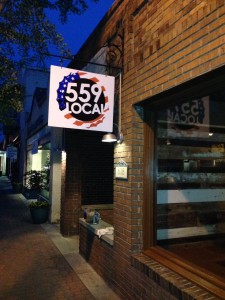 Local & family owned 559 Beer is the first brewery in Clovis, CA, and lucky for us, they just opened a tasting room in a building over 100 years old on 4th Street.
Rhett, Randy & Cheryl Williams are the key players, though the whole Williams family supports the brewery in some form, especially at bottling time.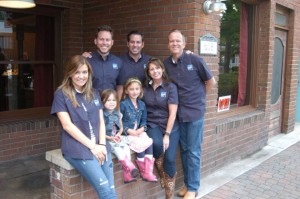 (Rhett, Ryan, Leighann, Harper, Carys, Cheryl & Randall Williams)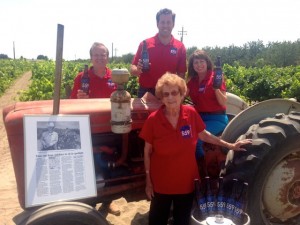 (Randall, Rhett, Cheryl, & grandmother Irene Gomes, who has been on the ranch for 65 years.)
Even though they're located in Clovis, you may have spotted their beers in the "Local Brews" section of your local Save Mart, which is where I first heard of them.
The tasting room brings new life to the downtown atmosphere, and offers something completely new to the city.
Rhett Williams, the master brewer, spent many summers in Germany, where his mother Cheryl would teach. When he would be visiting with families, often times they would invite him to the pubs because the drinking age in Germany is 16. It didn't take long for him to go into the cities and hang out with renowed brewmasters on his own, and a love for beer and brewing was born. He's been to Germany more than 20 times.
"We can't put our beer into a category. We don't make our beers for a category, we make them to celebrate our foundation and our story. We feed the world; why not show that through our beers?" – Rhett
Rhett is involved in every step of the process, from purchasing his grains and hops from Bomburg, Germany, picking them up personally from the port, brewing, racking, bottling-these beers are his creation from start to finish. A family trip to bourbon distilleries in Kentucky resulted in the development of the Bourbon Barrel Ale. They get their barrels for the Ale straight from Kentucky. You're getting the real deal with every sip.
The Raisin Farmers Ale was created to honor their grandfather, Al Gomes, a local raisin farmer for more than 50 years. The blue tractor pictured on the bottle was his tractor, the very one Cheryl learned to drive when she was a little girl. Rhett left his cushy 9-5 job to take care of his grandfather in his last few months of life, and they grew very close. They often talked about Rhett's brewing passion and the agriculture economy of Fresno County. Raisin Farmers Ale perfectly honors the life Al lived, and the little city of Caruthers (45 minutes south of Clovis) he left behind.
Wawona Peach was also created to honor the local farmers and Clovis' famous peaches. All produce for the beers are from local farms.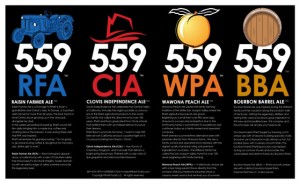 Take a drive and taste some of the best beer you'll find in California. They support many Clovis area charities, and often host events for non-profits in the tasting room. If you see a flyer for one of these events around town, make it a priority to go!
Non-alcoholic beverages will soon be available for all the designated drivers. Thanks for making it fun for our DD's, too!
NOW OPEN: TASTING ROOM
THURSDAY – FRIDAY 5pm-8pm
SATURDAY 11am-5pm
608 4th Street
Clovis, California 93612
Editor's note: To purchase locally, they can also be found in O'Brians, Modesto & Village Fresh, Turlock. To purchase for your restaurant or bar, you can contact Varni Brothers / Stanislaus Distributing to place your order.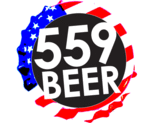 Comments
comments
Bring on the rain, and a bottle of Wonky & Wry's Honey Braggot Ale. Loves to roast marshmallows over a fire. Enjoys the mix of cigars and whiskey.