Rockin Holiday Thanks You!
By Chris Murphy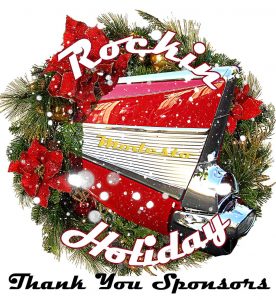 This wonderful community effort to bring back the retro day's of holidays past and connect them to our future would not be possible with out the gracious, creative and dedicated sponsors to bring these crazy ideas to life.   Thanks to these amazing local business that believe that living in Modesto is about teamwork and positive experiences.   This is why we live here and this is why we should all be shopping local here and visiting these companies.   Take a sec to read this list and use them whenever possible.
Thank you to Sierra Pacific Warehouse Group for taking the lead and the installation team. Thank you Modesto Downtown Improvement District & Young Nancy for being the glue and the spirit of Downtown Modesto. MODESTO TOYOTA as you all are amazing to help bring holiday happiness. Brian Friend & Laser Voodoo, your skills and creativity make this special. Collins Electrical Company helps make the electrical magic come alive and keeps us safe.
We have some very special Rockin Sponsors this year that helped us up our game, Ceres Pipe & Metal is the core of Rockin Tree, Downtown Modesto Partnership for championing vibrance, Bob Fores and Fores Macko A Professional Law Corporation for seeing the vision (go Bears) Prime Shine for helping make this season shiny and bright, Brian Kline and the Patch Crew for the solid footing. Thank you Michael Moradian and Peace of Mind Pest Control and Home Inspection for believing in us, Roberts Auto Sales for always seeing the great events sparkle, the Modesto Confidential and Management Association for recognizing how this makes our city better. @Sammy D and Trieste Jakubicek Dounglomchan for your amazing cheerleading, Brenden Theatres Modesto 18 for being our home base and snow center and being "literally" the beacon of Downtown.
Fuzio Universal Bistro and Ralston's Goat are two local restaurants that go above and beyond and you should try them and the Modesto Police Officers Association as they know a vibrant and busy downtown brings safety and to the Modesto Area Music Association – MAMA for connecting community and music, Jennifer Allsup for managing the crew, & Visit Modesto for making things happen and finally to the City of Modesto – City Hall Ashley Weaver Laurie Evans Smith for allowing a group of citizens to team up and create a downtown winter wonderland. This is truly a special project and our deepest gratitude to you all. See you at 7:30 the opening after the parade and please support these amazing local companies that care about making Modesto better. You are all very appreciated. Thank you – Chris Murphy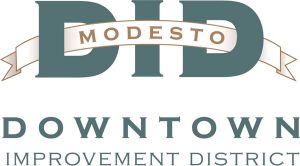 We hope to see you all out at Modesto's Rockin' Holiday in 10th St Plaza.
www.facebook.com/rockinholiday
Thanks to our Presenting Sponsors who helped get this project started
Rockin' Holiday Presenting Sponsors
ModestoView www.modestoview.com
Sierra Pacific Warehouse Group www.spwg.com
Modesto Toyota www.modestotoyota.com
Modesto Downtown Improvement District www.modestodid.com
Laser Voodoo
Thank you to all of our Rockin' Sponsors that bring Rockin' Holidays to life.
Brenden Theatres     www.brendentheatres.com
City of Modesto  www.modestogov.com
Collins Electric Company www.collinselectric.com
Ceres Pipe and Steel – www.cerespipeandmetal.com
Downtown Modesto Partnership www.domopartnership.com
Fores and Macko Law Firm   www.foresmacko.com
Modesto Area Music Association www.modestoareamusic.com
Modesto Confidential Management Association   www.modestocma.com
Modesto Police Officers Association
Peace of Mind Pest Control www.peaceofmindhi.com
Patchcrew www.patchcrew.net
Prime Shine www.primeshine.com
Ralston's Goat www.facebook.com/ralstonsgoat
Fuzio Universal Bistro www.fuzio.com
Roberts Auto Sales www.robertsutosales.com
Sammy D and T Real Estate www.sammydandt.com
Visit Modesto www.visitmodesto.com
Rockin Tree Shows Nightly – 6 pm – 11 pm
Rockin Holiday Live
Rockin Santa, Rockin' Snow, Rockin' Northpole, Rockin Live Music.   Thursdays, Fridays and Saturdays 6-9 pm Dec 2 – Dec 23
Comments
comments
Chris Murphy is the President and CEO of Sierra Pacific Warehouse Group and Publisher and Founder of ModestoView Inc. Chris worked globally in the cycling industry returning to Modesto in 1996. He is also the founder of the Modesto Historic Graffiti Cruise Route, Legends of the Cruise Walk of Fame, Modesto Rockin' Holiday, the Modesto Music History Organization and co-founder of the Modesto Area Music Association. Chris is married to his artist wife Rebecca since 1985 and has two daughters Madison and Abigail, both graduating from Modesto High and UC Berkeley. He is lead singer and guitarist for his band, Third Party that donates their performances to non-profits.