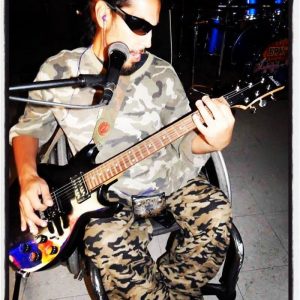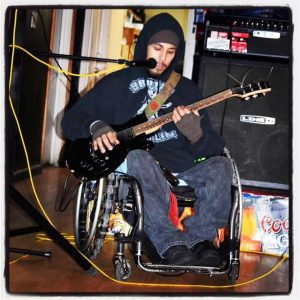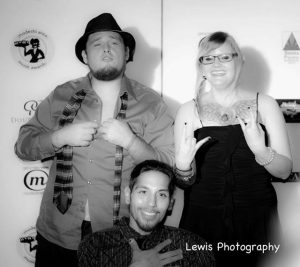 Remembering Abraham Guerrero
By Eve Oberlander
We lost a son, a brother, a husband, a friend and a part of the Modesto Metal scene on the evening of November 6th, 2017. Gone but never forgotten, Abe was a part of our metal family, hailing from Los Banos. He leaves behind a wife, our beautiful brutal metal Jenna and her son Logan. Abe was a bad ass on guitar. He could shred and growl with the best. He was in MAMA award-winning, Brutal Innocence, a band that I met when I first started hanging out in Modesto. As we grieve, each and every one of our metal and music community has been reaching out and we thank you for it. A celebration of Life will be happening in January, we will be throwing a metal show, and party, just like Abe wanted.  He will remain forever in our hearts.
2017 Modesto Area Music Award Metal winner, HellHeart, just came home from a tour in Mexico and I had a few random questions I was curious about.
 MV: Did anyone find romance on tour?
HH: Haha, well as far as romance goes, let's just say yeah, some of us had some fun. But I don't really want to go into detail out of respect.
MV: Right on!
MV: What did you eat on tour? (I'm a foodie, let's be honest)
HH: We ate a lot of the local food, going to different taco shops and street vendors. The food was amazing. We ate our weight in Tacos, lol.
MV: Was travelling in a foreign country dangerous at any time?
HH: We never felt unsafe, everyone there is super friendly, there's a huge sense of community. Everyone we met was nice and super helpful. There was one corner in TJ where we got stopped by the police but they just wanted to ask us some questions. We got scared for a second but it turned out fine.
MV: What was your favorite stop? Venue? Place to play?
HH: I think our favorite stop was Saltillo at a place called Pizza Rock. The town was absolutely beautiful and the fans were amazing. The best venue to play was definitely Café Iguana, it's an almost Ace of Spade size venue. It's inside an old castle. The place was crazy and the sound and light show we had was amazing.
MV: What were the fans like and what did they say to you?
HH: The fans were all super amazing and passionate about the music and loved being a part of the show. We were signing all kinds of things, taking pictures with all sorts of people; it was incredibly humbling to have so many new people who love our music.
HellHeart tells me they had an amazing trip and tour in Mexico and they've already been asked to come back. Details are still being worked out but they may be heading back next summer. For a full-length article and pictures please visit Modesto View, Metal View, online at www.modestoview.com
We have an important fundraiser show coming up, please attend. Our dear friends from Your My Boy Blue Entertainment LuLu and Justin's parents have lost everything due to a fire that almost took their lives. The show features Modesto's 17TEN and we will be having a raffle to raise money for the family. The show is called Winters End brought to you by Asylum Productions on Friday, December 22nd   at The Other Place, 8 pm.