GoDowntown: Rockabilly Cruise Night
It has been over 6 years since America's premier psychobilly band, the Koffin Kats have played the 209(the Gypsy Shack in Sonora) and longer since they last graced a stage in Modesto. They have not played the West Coast for over 2 years due to the pandemic and are ready to get crowds moving all up and down the coast. You will not want to miss the Koffin Kats when they blow the doors off of Ralston's Goat on March 23rd 7 pm, supporting their latest release "Ya Can't Take It With Ya". Joining them for one night only is Modesto's own rockabilly stalwarts Tony T and the Pendletons. Get your tickets now at www.koffinkatsrock.com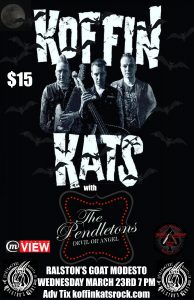 Middagh Goodwin LIVES Music. He has been booking and promoting Music, Art and Comedy for years in the Central Valley. He ran the award winning Plea for Peace Center in Stockton for 5 Years and has booked bands from A-Z. Middagh is beginning 2016 with a new position at the Gallo Center for the Arts and celebrating Beat Happy! Music's 30th Anniversary. Read the MAMAView every month and a the Needle Drop 52 Records 52 Weeks.