FamilyView: VanderHelm Farms You-Pick Blueberries and Tractor Rides
By Brandilyn Mitchell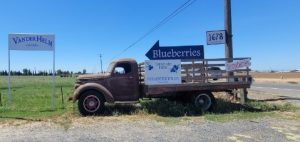 VanderHelm Farms is open for the season! Just in time for summer break. An afternoon at VanderHelm is a great way to have fun, teach your kids about our local agriculture and eat healthy, too. The farm has blueberries, strawberries, peaches, apriums and zucchini. It's really fun to walk through to see all the different kinds of fruit and how it grows. Let your kids pick what they like and let them enjoy everything our valley has to offer. We grow so many things right here in our valley. Our climate is perfect to grow nearly everything, and agriculture is a huge industry. Our littles may just grow up to be farmers, equipment mechanics, soil testers, or farm accountants if they prefer to work indoors. A day at VanderHelm could instill a love for agriculture that a day in the classroom could never do. There is a playground on-site for littles too, with a teeter-totter, swings, sandbox and a GIANT tractor to play on. Farther down the farm is a mini-playground near the strawberries with different sized tires and slides to help your littles get their wiggles out mid-picking. Pack a lunch and enjoy it under the shade on one of the many available picnic tables!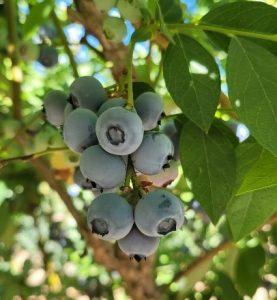 The blueberries have ripened and want to go home with you to be baked into pies and muffins! Snowchaser, Springhigh, Jewel, Star, Meadowlark, Victoria, Ventura, Abundance, SanJoaquin, and SuziBlue are some of the varieties they offer. Strawberries & zucchini ripen every day and you want to get there early if you want those, as they go quick. Peaches and apriums will ripen in early June, so get ready! 
There are no tickets or reservations. There is no charge to enter the farm. You will pay by the pound for the fruit you pick. Blueberries and Strawberries are $4 per pound. Cherries are $6 per pound. Peaches, Apricots, and Nectarines are $2 per pound. Zucchini, squash, and cucumber are $1 each. They accept cash and credit cards as payments, but there is a minimum credit card charge of $10. If your total is less than $10 please plan to pay in cash or add some water bottles to your order for $1 each. The tractor rides are by donation only, but please remember how expensive gas is, and donate accordingly. Lastly, there are porta-potties all over the farm for you to use throughout the day. And above all else, HAVE FUN and MAKE MEMORIES! 
VanderHelm Farms
1678 Albers Road Modesto
209-614-8307
Closed Sundays. Pre-picked blueberries and strawberries are available for purchase, too.
vanderhelmfarms@gmail.com
https://www.vanderhelmfarms.com/
Bring on the rain, and a bottle of Wonky & Wry's Honey Braggot Ale. Loves to roast marshmallows over a fire.