Legends of the Cruise 2022 Walk of Fame Inductees
By Chris Murphy
As George Lucas once said about American Graffiti, these were the stories that he grew up with cruising on 10th and 11th Street in those formative high school years.  Everything was about your boyfriend or girlfriend, being seen on Thursday, Friday and Saturday, driving, racing, parking or just circling again and again, maybe getting a ticket or two, or twenty or over one hundred like Terry McGrath of the Road Rebels, who will be honored in memoriam at the 2022 4th of July Parade.  The stories that Lucas told in American Graffiti were based on people here in Modesto and these are the people we honor on the Modesto Historic Cruise Route Legends of the Cruise, Walk of Fame.  There are great stories that can be told, and many that can't, and that is part of the legend.   These legends must live on and our kids and their kids need to know all about them.   As we are growing up, we now have Cruise Legends that graduated in the 70s.  These were good times and let's meet the 2022 Legends of the Cruise. 
Deacons
The Deacons car club was established 60 years ago and still meets as a group.
Founded at Downey High School in 1962 by a group of young men who were interested in hot rods, cars, and drag racing. They were affiliated with the International Car Club of America. They all loved to cruise 10th Street during the day. A couple of weekends a month you would find several members drag racing at the Kingdon Drag Strip located between Stockton and Lodi. By 1965 there were approximately 30 active members. The Deacons always stopped to assist travelers that were broken down on the highway.  They never accepted money to help a fellow traveler, always leaving their card behind saying they were "helped by the Deacons". Another project of the club was car washes and poker runs for fun and then donating the funds to a local children's charity. There are still 12 members that get together twice a year for reminiscing and still enjoy the hobby of classic cars.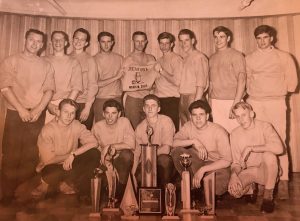 1962
Top row L to R
Ed Owen, Doug Miller, Wade Meyer, Bob Ross, Mike Bilyeu, Mike Gomez, Doug Rucker, Mike Fleming, Bob Ackers  Bottom row, L to R
Steve Kelzer, Ron Herbert, Richard Stromer, Sam Gotshall, Tom Rauls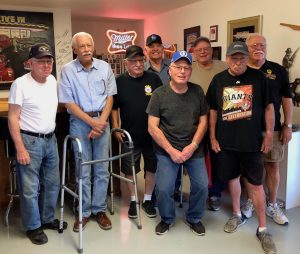 2021 
L to R
Harold Moore, Bob Ross, Allen Bumgarner, Mike Fleming, Tom Ralls, Sam Gotshall, Ed Owen, Steve Kelzer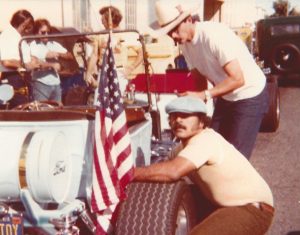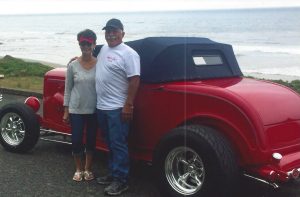 Vern Silva
Turlock High School- 1965
My car was a 1957 Chevy. My senior ditch day was spent at a friend's working on his car. Now I am helping friends with repairs and building cars from the ground up. I went to Vietnam from 1967 to 1968 and came back and started a family with my wife Josie, now married for 64 years. In 1971, I started building my first Street Rod – a 1923 T Bucket and the rest is history.
I am a past president of the Modesto Area Street Rod Association (1983). We joined the club in 1978. It was a young club with growing families like ours. Street rodding was a great family sport with things for the whole family to do at shows. At that time, we had the roadster that soon became too small for our family.
We then found a 1928 Ford two-door sedan that would be perfect for us but needed a lot of TLC. We did it all ourselves, the paint, upholstery, and everything in between and the RM4Four was born. It had a brick V6 and made a trip to Oklahoma City in 1983. We have met a lot of great friends and have seen a lot of beautiful country in our travels with our cars – Nevada, Oklahoma, Colorado, and many shows in California. In July 2019, we drove our 1932 Roadster to Victoria, Canada.
We hope to make it to Louisville, Kentucky in the next couple of years. We're not sure which one of our cars we will take – the 1957 Chevy, 1932 Ford Roadster, 1965 Buick Riviera, or our son Randy's 1969 Camaro – but we know for sure it will be another adventure! We're not done yet, a new project is currently a 1935 Ford pick-up with an LS motor. Life has been good!
End note: "Vern cruised 10th and 11th streets after coming home from Vietnam. He was an original member of the Untouchables Car Club in Turlock. Vern was a mechanic and gunner in a UH-1 "Huey" helicopter, mechanic during the day and gunner by night.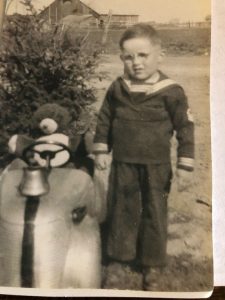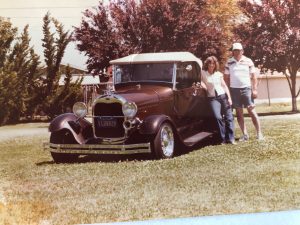 Dan Vierra
Our Lady of Mercy High, Merced – 1961
Dan grew up on a dairy east of Turlock and attended Our Lady of Mercy High School in Merced. One of his earliest memories was receiving his first car – a pedal car – at age four. Since then he's owned Studebakers, Pontiacs, Chryslers, Corvairs, Camaros, Corvettes, and Fords.
Today, he drives a '29 Model A all-steel full fender street rod, a recently restored '52 Ford custom pick-up originally built by Gene Winfield, a '57 Facel Vega, a '61 Corvette, and an exact replica of the '64 Plymouth 426 4-speed that he bought new in '64.
Dan was a member of the Eliminators Car Club and a trophy winner at Balico Drags at the old Turlock Airport. In the mid-60s he joined the Ports Auto Club. For the past 45 years, Dan has been a member of the Modesto Area Street Rod Association. Ask Dan about anyone he has ever known and he will likely tell you, in detail, about the person's car at the time – the make, model, color, and how fast it was!
Bob Rose
Downey High – 1973
He got his love of cars and street rods at a very young age from his father, Luis Rose. His first car was a 1947 Ford pickup. Bob married his high school sweetheart Jackie and will be married 47 years in August.
His first "ground-up" street rod build was a 1938 Chevrolet Master Sedan at the age of 22. Bob and Jackie had two daughters but this did not slow his love for the cars. Bob has had many award-winning cars through the years from his 1952 Chevrolet Pickup to 1956 Chevrolet 2-door Wagon to a 1962 Chevrolet Impala Convertible along with his multiple national award-winning 1960 Rambler Wagon. If Bob was not building a street rod, he was helping build his buddy's projects, forever giving back to the car culture. Everyone liked to have Bob on the build, as nothing is ever half baked when it came to his work and his vision. Bob is currently building a 1950 Ford "Shoebox" coupe, as in the past, nothing is "half baked".
Bob is known and respected throughout the United States for his restorations of metal antiques, pre-war bicycles, peddle cars, safes, toys, coffee grinders and about anything else one can think of in the collectable market. The quality of his restoration work is recognized with very few equals.
Bob serves on the Graffiti Museum Board as an adviser and is a proud member the famed Faros Car Club. He was a constant presence in the McHenry Avenue cruise scene all through high school in the 70's. There are some stories but those are best not shared as we are not positive the statutes have expired, what his buddies knew was that Luis was not happy.
Footnote:
Bob's dad Luis Rose was an inspiration to many kids who grew up to be Hot Rodders. When Bob and his buddies were in grade school Louie always had the "cool" truck, chromes with moons, snuck down a bit and the kids would fight over who got to ride in the back to the little league games and this was in the '60s.true story.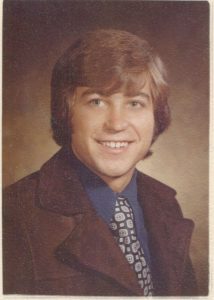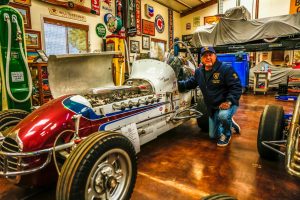 Ron Pippin
Downey High – 1975
His high school car was a 1929 Ford Model A with a Flat Head 8BA V8. After high school, Ron went to work in the construction industry while attending what would become the Construction Management Program at Sacramento State. Ron would continue his career in Institutional and industrial construction, eventually starting his own business along with his brother Larry, where he continued for the next 25 years before retirement.
Ron joined the Faros Car Club in late 1972 following his two older brothers, Larry and Terry, where he has remained a member until this day, "once a Faro always a Faro". He is currently the president of the Faros car club. He also sits on the board of directors for the Graffiti Classic Car Museum, along with a group of very dedicated board members and advisors.
Ron never left the Modesto Car Culture since high school, collecting cars, vintage gas, oil and auto-related signs and artefacts. His collection ranges from correct cars to street rods to vintage motorcycles.
Ron married his "very patient" high school sweetheart Lori (Stabelfeld). Lori enjoys the car culture along with their daughter Jennifer, son Marcus and their families.
Ron raced SCCA Road Racing for several years and was the SCCA Sacramento chapter Street Touring U champion in 2006.
With two Brothers involved with the Modesto car culture in high school, they wrecked each other's cars, blew clutches and raised all kinds of havoc. They got pretty good at hiding damaged cars from their dad. Being the "little brother" Ron would get away with way too much.
On one occasion in 1974 Ron loaned his car to his good buddy so that he could take out a girl that was not his girlfriend (incognito) so Ron rode his buddies Kawasaki 500 Mach 3 motorcycle for the evening. Ron had a few beers that evening and ended up driving the Kawasaki through a McHenry Avenue motel wall coming to rest on the toilet in the motel. He also was escorted home by the police on more than one occasion, back when they would escort you home and have a word with your parents. On one occasion this resulted in his brother Terry's driver's license being taken away by their dad, his guilt was that he gave Ron a ride home, go figure.
Back then the cruise was McHenry Ave., 5 points to McHenry Village, the village being the gathering point to see what was going on for the evening, you never made plans prior to the cruise as the evening would always develop as the night went on. It was good clean fun, most of the time, reference being escorted home by the police.
Ron credits his two older brothers Larry and Terry and friends in the car culture for his continued interest in the history of Modesto's Graffiti era. The guys that were involved in the culture at the time are lifelong friends to this day. "It really speaks to the Modesto area car culture that develops and maintains these lifelong relationships"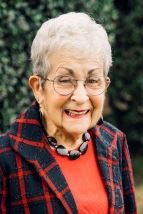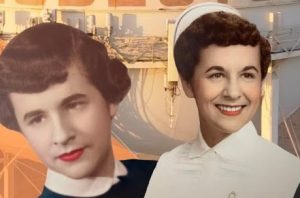 Jenny Kenoyer
Modesto High  –  1953
Jenny has been honored by the North Modesto Kiwanis as the Grand Marshal of the 2022 American Graffiti Festival Cruise Parade.  As Modesto High's first woman yell leader, Jenny has been a champion for Modesto's Graffiti scene for as long as she can remember.  Born in Patterson, she moved to Modesto when she was 5.  In high school, she was active in school leadership and was and is an avid MoHigh supporter.   She has 5 children that also graduated from Modesto High so it's a family thing.  Over the years she had a great career as a nurse caring for others and then started her second career serving the community of Modesto.  Jenny is a two-term Modesto City Councilperson and has been an advocate for positive community programs and activities. All along, she has been a champion of the return of Graffiti cars to the streets of Modesto, supporting the Graffiti USA Museum, The Cruise Route, Walk of Fame and so much more.     
She is currently battling cancer and has just survived another round of chemo, but she still is active, attending events and council meetings. 
She is a big Modesto supporter and has earned the friendship of many in the classic car community.  Anyone that has seen Jenny at a Graffiti event knows her Modesto cheer.   M- clap clap clap clap O – D –  E –  S – T  O!  Modesto!  Modesto! Modesto!  
Please join our car community in welcoming Jenny to the Legends of the Cruise Walk of Fame     
Chris Murphy is the President and CEO of Sierra Pacific Warehouse Group and Publisher and Founder of ModestoView Inc. Chris worked globally in the cycling industry returning to Modesto in 1996. He is also the founder of the Modesto Historic Graffiti Cruise Route, Legends of the Cruise Walk of Fame, Modesto Rockin' Holiday, the Modesto Music History Organization and co-founder of the Modesto Area Music Association. Chris is married to his artist wife Rebecca since 1985 and has two daughters Madison and Abigail, both graduating from Modesto High and UC Berkeley. He is lead singer and guitarist for his band, Third Party that donates their performances to non-profits.