GALLO CENTER APPOINTS RYAN FOY TO NEW LEADERSHIP ROLE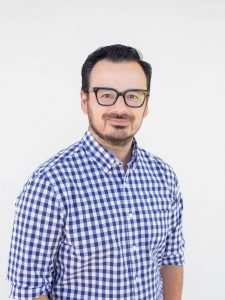 MODESTO, CA   (JULY 5, 2022)  Ryan Foy has been named Director of Produced Theatre and Special Programming at the Gallo Center for the Arts beginning July 18. The newly created role will be part of the Center's senior leadership team reporting directly to Chief Executive Officer Chad Hilligus. Foy will oversee all in-house produced and special programming projects, including the artistic leadership of the Gallo Center Repertory Company following the retirement of longtime volunteer GCRC artistic director Jim Johnson at the end of the 2022/23 season.
"I am very excited about passing the torch to Ryan," said Johnson. "He has the right combination of theatre artistic and administrative experience, and I look forward to working with him during my final season. Ryan will ensure that the Gallo Center Rep not only will continue to prosper as a vital part of the region's theatre community but in addition, will help lead the program in new and exciting creative directions."
Foy's new role also will be responsible for expanding the vision and year-round programming initiatives for the Center's Modesto Rotary Music Garden, which currently offers the free summertime Brown Bag Concert Series showcasing local musicians Fridays at noon for 12 weeks through the summer.
Foy attended the University of Michigan's musical theatre program and studied at the National Institute of Dramatic Arts in Sydney, Australia.  He has extensive theatrical experience in acting, directing, company management, marketing, design and production. While based in New York, he appeared on stage on national and international tours and directed numerous musical theater productions nationwide.
A Modesto resident since 2014, Foy most recently partnered in a web design firm specializing in projects for performing arts, non-profit, and other business organizations. He also is a founding board member of the Modesto Children's Museum, and currently serves as the board vice president and chair of its operations and exhibit design committee.
"This new position is an important part of the Center's future," said Hilligus. "We hope to begin offering more regularly scheduled free public arts programs in the Music Garden, such as community yoga and Pilates, drum circles, chalk art festivals, painting classes, storytelling, and much more throughout the year.
"After months of strategic planning and interviewing candidates from coast to coast, the search committee is confident we've found the right individual to propel us forward. Ryan brings a vast experience in a variety of areas within the performing arts field, as well as a long list of local community partners and collaborators."
ModestoView features contributors from our community on a regular basis. We enjoy and welcome these honorary ViewCrew members. If you would like to message them, email to info@modestoview.com