Center for Human Services  
Celebrates 36th Annual Edible Extravaganza – back in-person! 
Center for Human Services' Edible Extravaganza is finally back! This year, Edible Extravaganza celebrates 36 years as the Central Valley's most-anticipated food and beverage show. The 36th Edible Extravaganza is set for Thursday, September 29, 2022 from 5 to 9 p.m. at Venue 833 in Downtown Modesto with VIP Admission starting at 5 p.m. and general admission starting at 6 p.m. 
HIGHLIGHTS: 
Elevate your experience with limited VIP Admission tickets for $120. With this special ticket, you have the opportunity to get in at 5pm, beat the crowds, and enjoy exclusive seating inside the elegant Venue 833 or on the terrace outside 
Over 30 of the region's best restaurants, breweries, vintners, bakeries and local growers our area has to offer 
Special drawing prizes 
Live bands 
EVENT TIMELINE: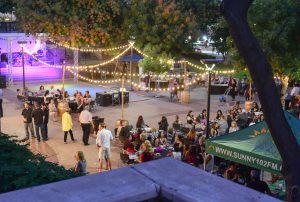 5-6 p.m. Sponsors and VIP Admission guests can access all food and beverage vendors and can enjoy a champagne reception. 
6 p.m. Doors open for the main event, and all guests have access to all food and beverage vendors.
Live music on the patio stage begins at 6:30. 
7:30 p.m. Live music on the patio stage till 9 p.m. 
9 pm. Event concludes 
EVENT DETAILS: 
Along with support from underwriting sponsors Andreini and Company, Save Mart Supermarkets, Oak Valley Community Bank, and Beard Land and Investment Co., this year's event will feature the best restaurants, caterers, bakers, confectioners, vintners, beverage purveyors and local growers that our area has to offer.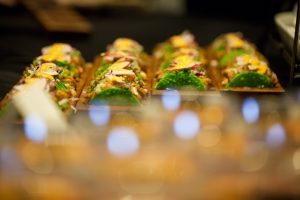 The event will feature a champagne reception for all sponsors and VIP ticket holders from 5 to 6 p.m. During that hour, sponsors and VIP guests get to sample the food and drinks from vendors before anyone else. Plus, they have access to exclusive VIP areas throughout the evening with special dishes and drinks only available to them.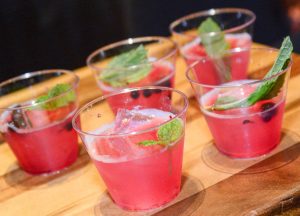 The doors to the main event will open to the public at 6 p.m. All guests will get to enjoy samplings of signature dishes and wines created by over 30 of the area's best restaurants and wineries including our long-time favorites like Mobile Mixologist, Skewers Kabob House, Fiscalini Cheese and many more! In addition, local bands will perform live music on the patio stage from 6 to 9 p.m. 
TICKET INFORMATION: 
Tickets are $60 in advance or $65 at the door and can be purchased online at www.edibleextravaganza.com, or by calling our office at (209) 526-1476.   
Checks, Cash, Visa, Mastercard, Discover Card and American Express are accepted. Come enjoy the 36th Annual Edible Extravaganza, Thursday, September 29th, from 5 to 9 p.m. at Venue 833. 
ABOUT CENTER FOR HUMAN SERVICES: 
As always, Edible Extravaganza is presented by Center for Human Services, a private, local, nonprofit agency, celebrating 52 years of service to Stanislaus County youth and families. Programs operated by Center for Human Services (CHS) include: shelter programs for homeless youth and young adults, Family Resource Centers, Community Counseling Services, Substance Use Disorder programs, school-based programs and more. 
If you would like more information on the services CHS provides, please visit our website: www.centerforhumanservices.org. CHS is in the business of changing lives, building futures and helping families. 
ModestoView features contributors from our community on a regular basis. We enjoy and welcome these honorary ViewCrew members. If you would like to message them, email to info@modestoview.com