Music, Laughs, and Milestones
By Middagh Goodwin

I just realized that I have been writing for ModestoView for nine years. My first MAMAView was published in the February 2014 issue(I will have to plan something big for next year.) In March, I will celebrate three years of This is SKA which airs on over 30 stations worldwide. Listen locally on KCBP 95.5 FM Mondays at 11 pm or Sundays at 5 am. Horizon Point will join Simple Minded Symphony at Ralston's Goat on Sunday, March 5th, at 1 pm to celebrate with me. I am also planning a Ska Street Festival for early October with Jr Ska Boss, one of the promoters behind Viva SKA Vegas; more information will come.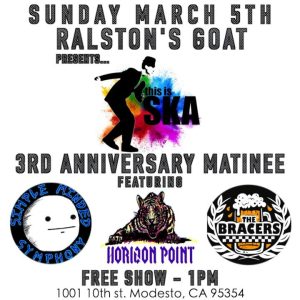 Regarding Ralston's Goat, you will want to attend The Flowers tour kick-off with Tiffany Rose & the Outlaw Hearts, Ted Barber, and Paper Space. February 15th at 6:30 pm and is $10 at the door.
Another not to be missed event on February 25th is the annual Johnny Cash Birthday Bash which is a fundraiser for the Prospect Theater Project. Hear some of the area's best performers, including Chris Doud, Marirose Powell, Big Earl, and Rachel Leonard, interpreting the songs of the Man in Black. Doors at 7 pm $30 in advance/$ 40 at the door if tickets are still available. For more information prospecttheaterproject.org.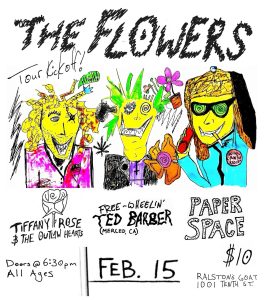 On the 24th of February, Horizon Point will join Haunted House Party and Analise from The Good Ones at Rancho Fresco Cantina and Nightclub, playing some of their favorites from the nineties. Horizon Point was in the studio recently, so keep an ear out for music and your eyes peeled for videos dropping soon.

If you are looking for some laughs, the Fun Junkies have you covered with several shows this month at various venues around the county. On the 1st at the Boardroom in Downtown Modesto, the 9th at Five Eye Brewing in Ceres, at the Spotlight Lounge in Modesto on the 10th, and out in Oakdale at Grains of Virtue on the 16th. There is also a great comedy showcase, We Own the Laughs, at the State Theatre on February 24th.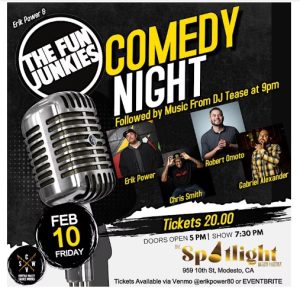 Music in the Plaza will return in May; if you are interested in performing this year, email mamarecords209@gmail.com, and we will see what we can do to get you on the schedule.
Check out the Calendar in the Magazine and online and go out and enjoy a night out in Modesto.
Middagh Goodwin LIVES Music. He has been booking and promoting Music, Art, and Comedy in the Central Valley for years. He ran the award-winning Plea for Peace Center in Stockton for 5 Years and has booked bands from A-Z. In addition, he is the managing editor of ModestoView and writes the MAMAView and GeekView. Middagh works with the Modesto Area Music Association and books Music in the Plaza. In addition, he owns and operates Graffiti-Con, where cars and pop culture intersects. More recently, Middagh has been working with the Graffiti USA Classic Car Museum, helping to create unique events that help raise funds and awareness of the museum and its mission. On top of that, you can tune into one of two shows that Middagh Goodwin hosts on KCBP 95.5 FM; This is SKA and MAMA Radio.