Unplugged View: Somebody Feed Philomena
by Aaron Rowan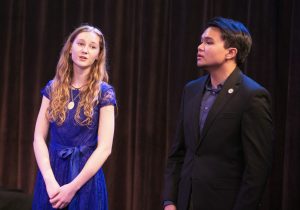 The ongoing Songlines series I'm hosting is like the global tasting menu featured on 'Somebody Feed Phil,' a food documentary show my sister introduced me to. Thus far, we've showcased music from Turkey and Canada, and this month we move on to the majestic country of Scotland, which is #1 on my travel wishlist. Philomena Iorns is a young lady and fellow Scot I know through various Opera Modesto concerts. Her grand debut as the leading lady will highlight traditional songs from Scotland and the British Isles. Joining Philomena are fellow OM singers Michael Balerite & Abner Arias, with Margaret Zabel on piano. Doors open at 7pm on Saturday, March 11, and Philomena & friends take the stage at 7:30. This type of showcase is among the most enriching that Modesto Unplugged facilitates. So capture this historic concert in your live feed to share with your friends and help them get wise to this fantastic series at Modesto's most extraordinary working art studio. $15 cash admission includes refreshments. You'll find The Dragonfly Art For Life at 1210 J St.
Opera Modesto serves up another Sunday matinee at the Mistlin Gallery the following weekend. Soprano Alicia Hurtado and tenor Max Hosmer team up for a recital titled 'High C's, Soldiers and Sondheim,' featuring pieces from classics like The Barber of Seville alongside more modern works including Sweeney Todd and West Side Story. It's an exciting concert with high notes, laughter, and beautiful singing. Sunday, March 19 at 2pm. Tickets range from $20-$50. www.operamodesto.org.
My best friend's father played drums for Janis Joplin in her early Big Brother & The Holding Company band. Imagine my surprise when I saw this nearly sixty-year-old group on the State Theatre's calendar. Dave Getz (my friend Alzara's dad) is still keeping the beat with them, and I wouldn't dream of missing this Modesto appearance. The Holding Co. brings its SF rock style to town on Saturday, April 1, at 7pm. Meet-and-greet tickets run $100; other seating costs $35 to $60. www.thestate.org.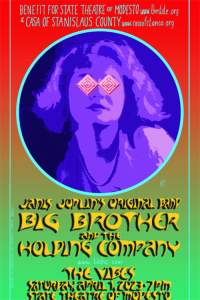 Still to come in my Unplugged programming during the first half of 2023: an evening with masterful harpist, composer & (occasionally) vocalist Amelia Romano, the only performer who ever directly inspired me to take an instrument class, and a matinee cabaret showcase with an ensemble from Italy playing some unusual instruments. Stay tuned for announcements on these unique and fantastic showcases. Intimate performances. Infinite playlist. MODESTO UNPLUGGED. www.modestounplugged.com.