KidsView: Zinc House Farms Family Farm Day
By Brandilyn Mitchell

Zinc House Farms, located on Highway 120 in Escalon, offers a kids program designed to spark curiosity and foster a love for the earth in children of all ages. It allows your littles to dive into the world of sustainable farming and experience the joy of learning, growing, and connecting with nature through hands-on activities and immersive experiences. With this farm introduction, it is hoped children will develop an understanding and appreciation for the natural world around them. 

We recently attended one of the Family Farm Days and had such a lovely time! Victoria Zitrin, an artist from San Francisco, partnered with Zinc House Farms this summer to expand on the Family Farm Day, including a crafts portion of the event. Children have a unique experience walking through an organic farm, learning how things grow, discovering nature that they can collect and make art with to take home. The tour of the farm was with crop masters Levi & Brandon. We started at the chicken coop to collect beautiful multi-colored eggs. Children learned that eggs come in so many colors! Then we made our way around the certified organic farm.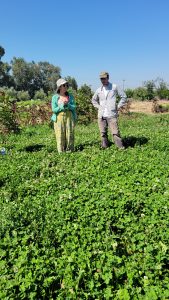 Victoria & Levi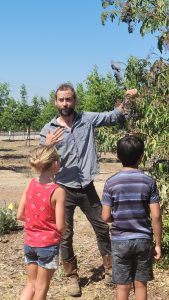 Brandon

                       
What makes a farm organic? They don't use chemicals of any kind-not for bugs, not for weeds, and not even to encourage growth of the plants. How do they do this? In some very unique ways. 
They rotate crops to keep nutrients in the soil and can put some nutrients back with the poop from the chickens. The "organic" areas are sectioned off from "natural" parts of the farm using native elderberry bushes and oak trees. This is so that someday the oak trees will be tall enough to house hawks so they will eat pests of the mammalian variety. Gopher snakes are allowed to take up residence to eat any gophers, and an owl box is stationed near the elderberry bushes to encourage owls to stay in the area as well. Near the flowers is a "spider hotel"-a lovely little stack of twigs and wood to allow spiders to live close to eat bugs, and it's a nice little resting place for the gopher snakes while they nap in between dinners.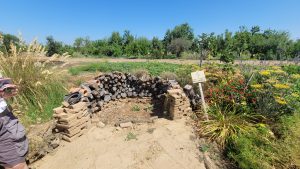 Spider Hotel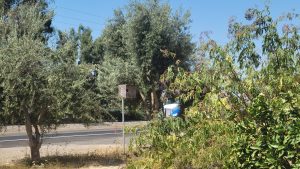 Barn Owl Box


There are "happy accidents" on organic farms, where seeds from one plant might take root somewhere else since herbicides are not used to control plant growth. We got to see quite a few little happy accidents walking around! Like random sunflowers among vegetables.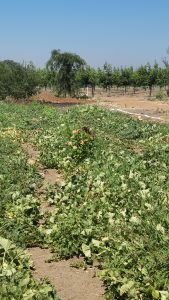 A happy accident

We learned some interesting things on our tour like that Cardone is similar to the artichoke and takes less water to grow. Morning glories and raw elderberries are poisonous to humans. Gourds used to be used as water bottles. The gourd would be hollowed out, coated with wax and filled with water to drink while out hunting or traveling.

We visited parts of the farm dubbed "Fruit Forest", "Mint Meadow" and "Root Row." We got to pick blackberries, peppers and tomatoes as well as harvest carrots and onions. We were also told to find a flower as we walked because it would be part of our craft at the end of the day. My little chose a small, palm-sized sunflower.  

Victoria owns an art studio in the city called Venturavie.org. The craft portion was filled with water color paints, colored pencils, and flowers of all kinds. Some kids drew their cute stubby carrots they harvested! Brandon picked and cut open a cantaloupe and a honey dew for us to snack while we painted. Yum!



There is one more Family Farm Day scheduled for Wednesday August 16th, and there will be more to come as weather permits. Get your tickets here. They are $5 for kids, accompanying parents are free. (You must stay on premises with your child to watch for those helpful gopher snakes!) They also offer adult classes like learning how to press flowers, making lavender oil, medicinal herb growing and usage. Check out more info at https://zinchousefarm.com/
Farm Stand Open Daily 8am-6pm.
There will be a winery tasting room opening soon so keep your eyes on BrewView later this year!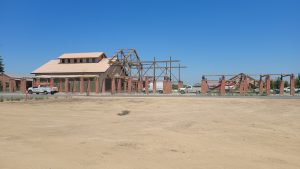 Bring on the rain, and a bottle of Wonky & Wry's Honey Braggot Ale. Loves to roast marshmallows over a fire.