5 Questions with Jim Christiansen
by Monica Barber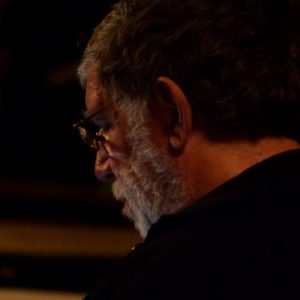 For much of the last decade it has been the status quo to move forward, boldly plunging into the depths of contemporary art in the forefront of community. One of many local talented artists, Jim Christiansen has proven that art offers boundless opportunities for ingenuity, narrative, and expression.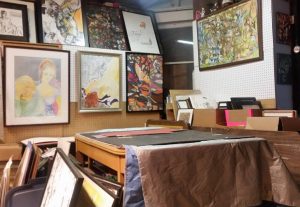 Christiansen's catalog of work has shown in numerous galleries including local favorites Mitslin Gallery, Chartreuse Muse and most notably adorns the walls of Tresetti's Wine Café at the corner of 11th & J streets in Modesto. He is an advocate for art in our community in addition to a talented artist.
Jim's artwork notably consists of vibrant, playful creatures, goddess-like females sketched and posed as though they were elements of nature, and figures isolated within bold swathes of ink or paint. His work embodies lightness & a seductive quality. In anticipation of the Stanislaus Artist Open Studio Tour, Modesto View reached out to Jim for insights on his process, inspirations, and motivations.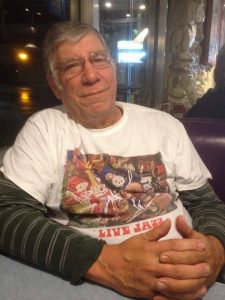 Modesto View: Tell us about yourself.
Jim Christiansen: Been alive around just over 6 decades, born in Riverside, California. Attended University of California, history major. Lived in Modesto since 1977. My art has shown in New Orleans but I've never been there. My art has shown outside California. I've been published cartoonist, illustrations, art award winner and write for Modesto View.
MV: What inspires and drives your art?
JC: It's something I've done all my life. My first sculptures were boxes as trains on garden hose tracks when I was 3. I learned caricature drawing from my math teacher. I was always into cartoons, art books, illustration and my mom early on realized that blank typing paper was cheaper than coloring books. I can't trace very well, so I've always worked on drawing my way. I try to be original, and try to get it down the first time. I seem to need to create stuff, so I find time to do it.
I see patterns in blank walls, clouds, shadows & etc. A nice or tumultuous day inspires, even boredom is inspiring. Emotional impact or release is the edge I try to capture. If what I'm working on doesn't have it, then it's not done, or it gets tossed. I'm not exactly self-taught. I've taken classes, studied the greats, but I'm not one to emulate my art heroes, but I take on ideas. Much of it, I do for me. The fact some sells, or yields a project to work with on with others is a bonus.
MV: How do you push boundaries as a working artist?
JC: I don't worry too much about trying something different; or creating a piece that's not pretty but might provoke another reaction. I aspired to be an editorial cartoonist. Sometimes the challenge of working out a new approach I've never tried is all I need to go for it. The success is doing it, not how it turns out. It will tell me if it's not my thing or try again. I have usual themes I do, but even those I have to vary so it doesn't get boring.
MV: Who are you currently collaborating with and can you tell us a little about it?
JC: Currently have one with poet Gordon Preston, chap book of poems inspired by ten of my art pieces. I couldn't name collaborator right now, but I have a model inspiring a set of paintings soon. I like when projects spring up and surprise me. I'm a regular of life drawing sessions, and early on you find there is a collaboration with that person you're drawing, and other artists there.
MV: What is the proudest moment in your career?
JC: I was invited to do a retrospective solo show at my alma mater. Ran for six months at the UC Riverside Alumni Center Library Gallery in 2011
Thank you Jim Christiansen!
You can see more of Jim's work by visiting his website, http://james-christiansen.pixels.com/ his facebook page https://www.facebook.com/jimsStudio/ and by heading out to the Artist Open Studio Tour April 22-23, 2017. https://stanislausaos.wordpress.com/
Comments
comments